Regular price
$ 15,495.00 USD
Regular price
Sale price
$ 15,495.00 USD
Unit price
per
Sale
Sold out
This product is made in the USA with American Steel! Learn why "Made in America" still matters.
The Big M commercial wood-burning smoker is the ultimate choice for those who demand nothing but the best in their barbecue experience: cooking efficiency, cutting-edge features, superior quality and meticulous design. Due to insulation of this smoker, minimal wood is required to maintain temperature making it exceptionally efficient. Say goodbye to constantly tending to your smoker; the Big M Smoker operates for hours unattended while maintaining temperature consistency, saving you time and money. The insulated Big M Smoker can run for up to 12+ hours with a hot bed of coals and 16" wood splits.
Airflow intake is twice as large as comparable smokers

Temperature-controlled damper unit

Thick, insulated doors for maximum cooking efficiency

Stationary cooking shelves

Large cooking capacity with customizable layouts

Effortless cleaning with a 1.5" ball valve grease drain

Precise fabrication using laser-cut sheet metal and CNC sheet metal bending

Customization options including color, logos, and mounting choices
Learn how your grill is shipped here.
View full details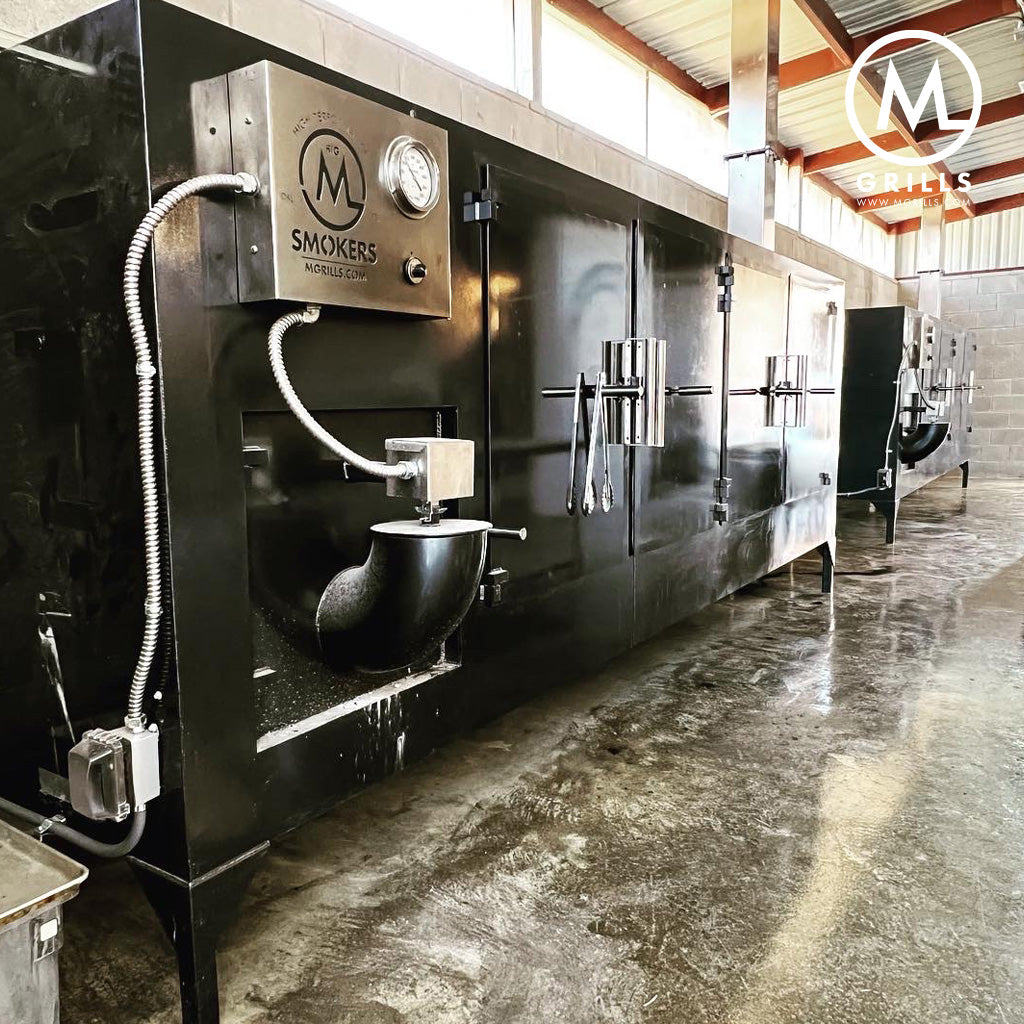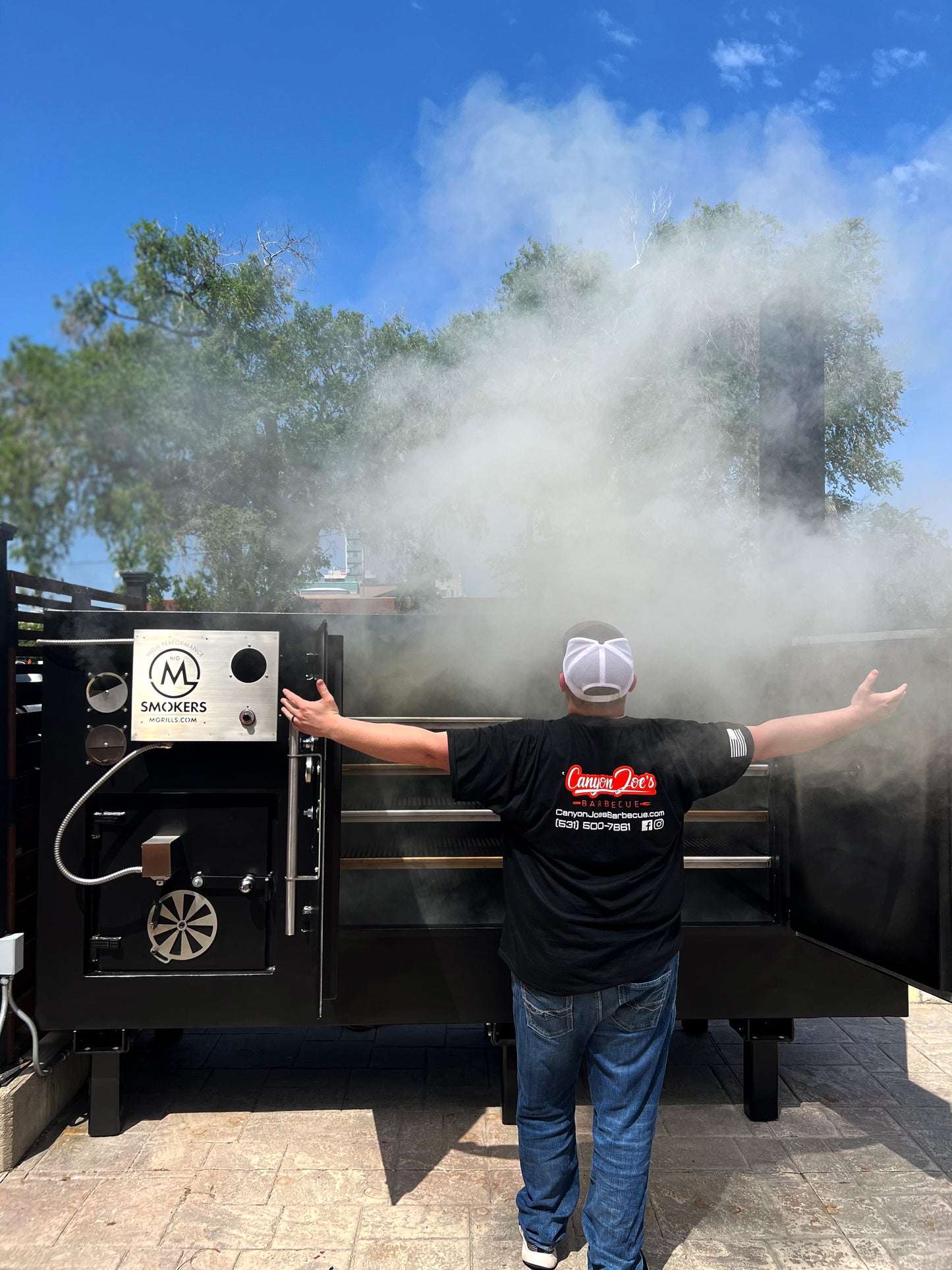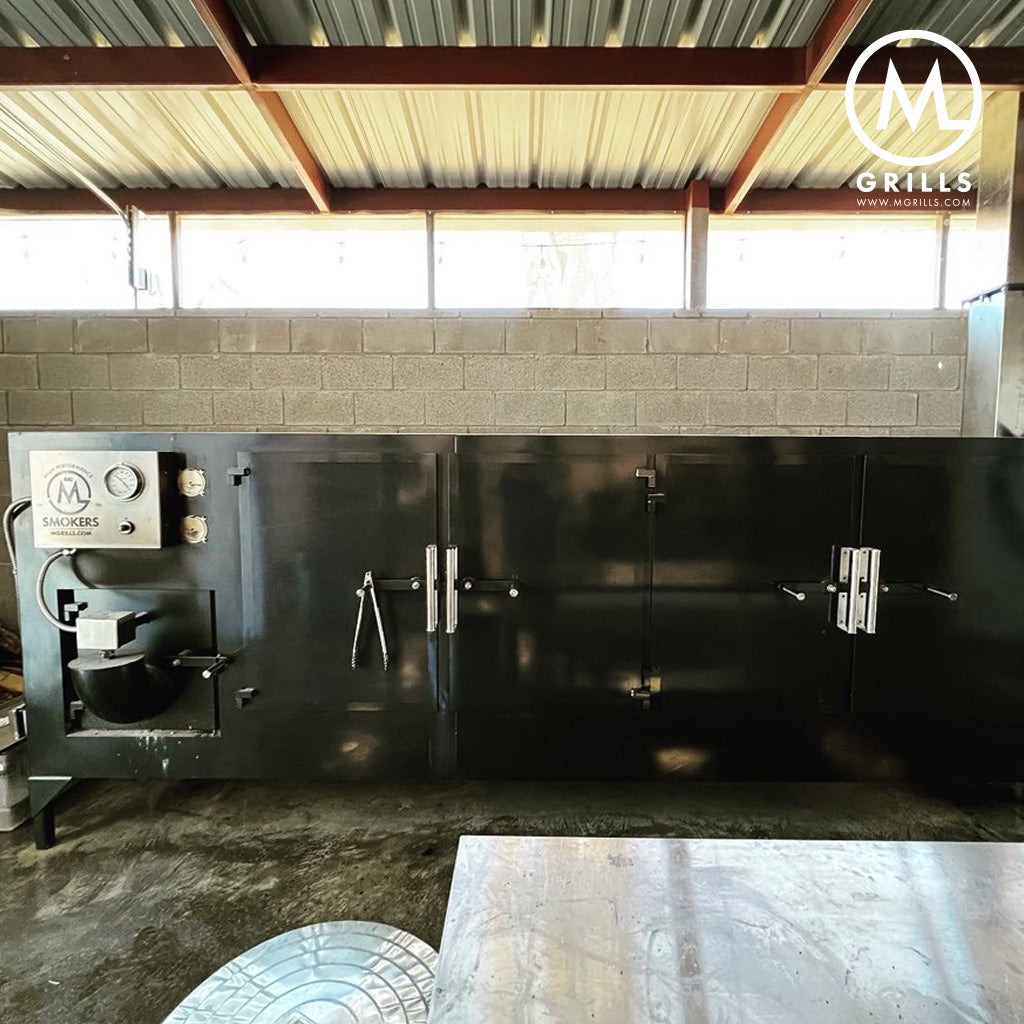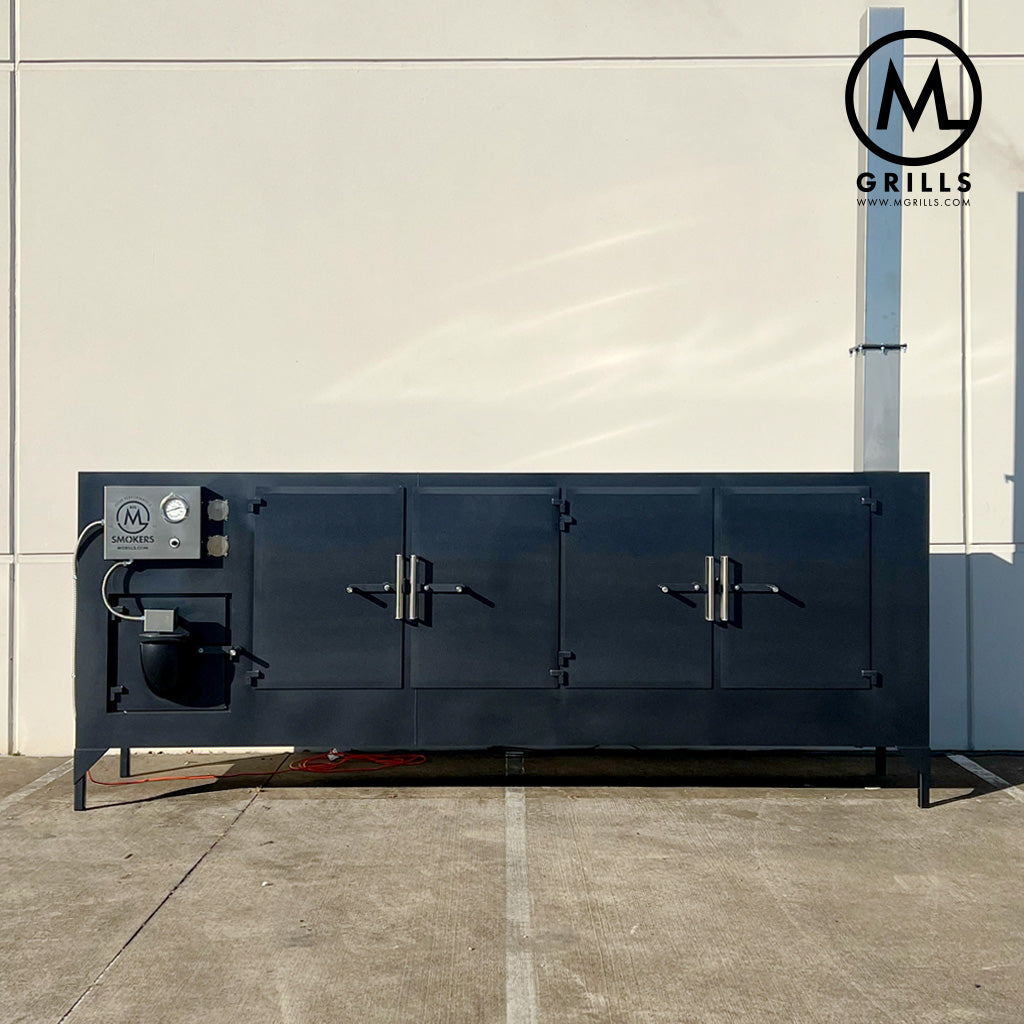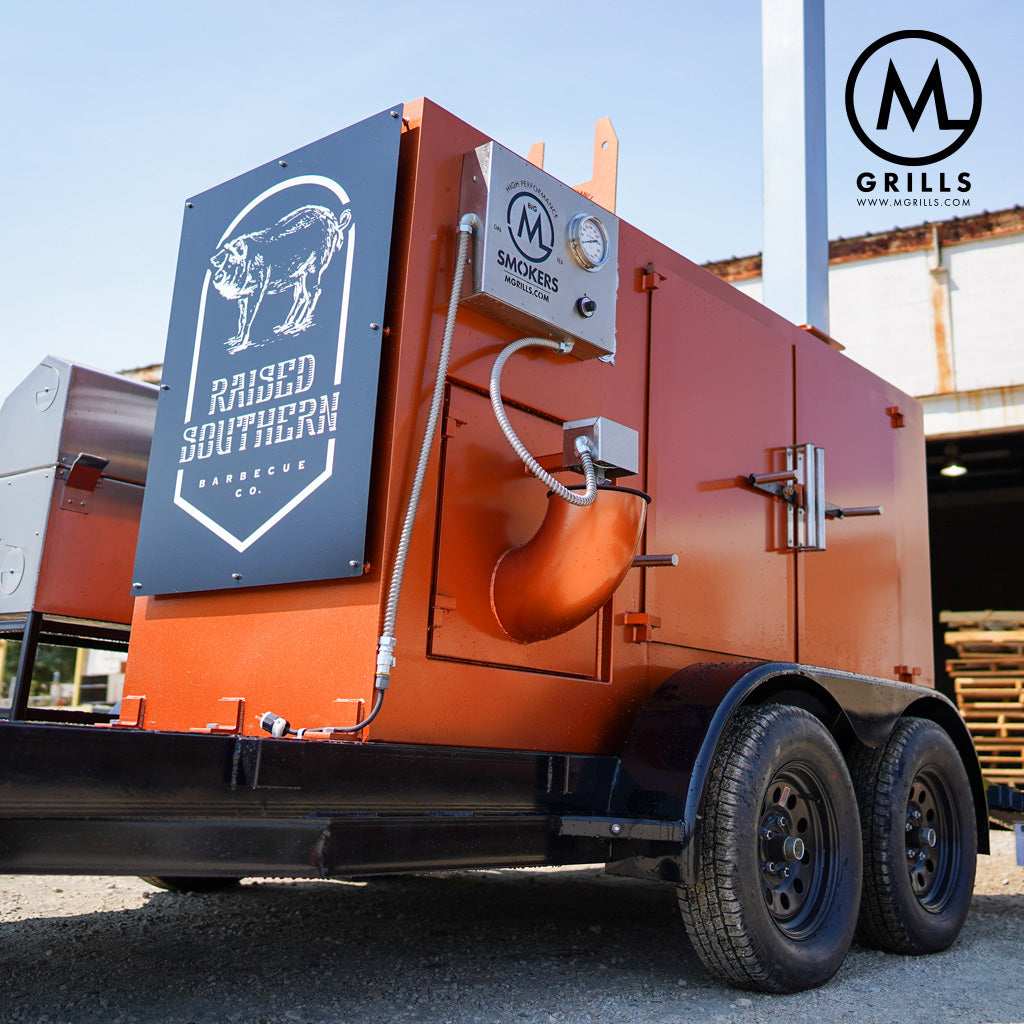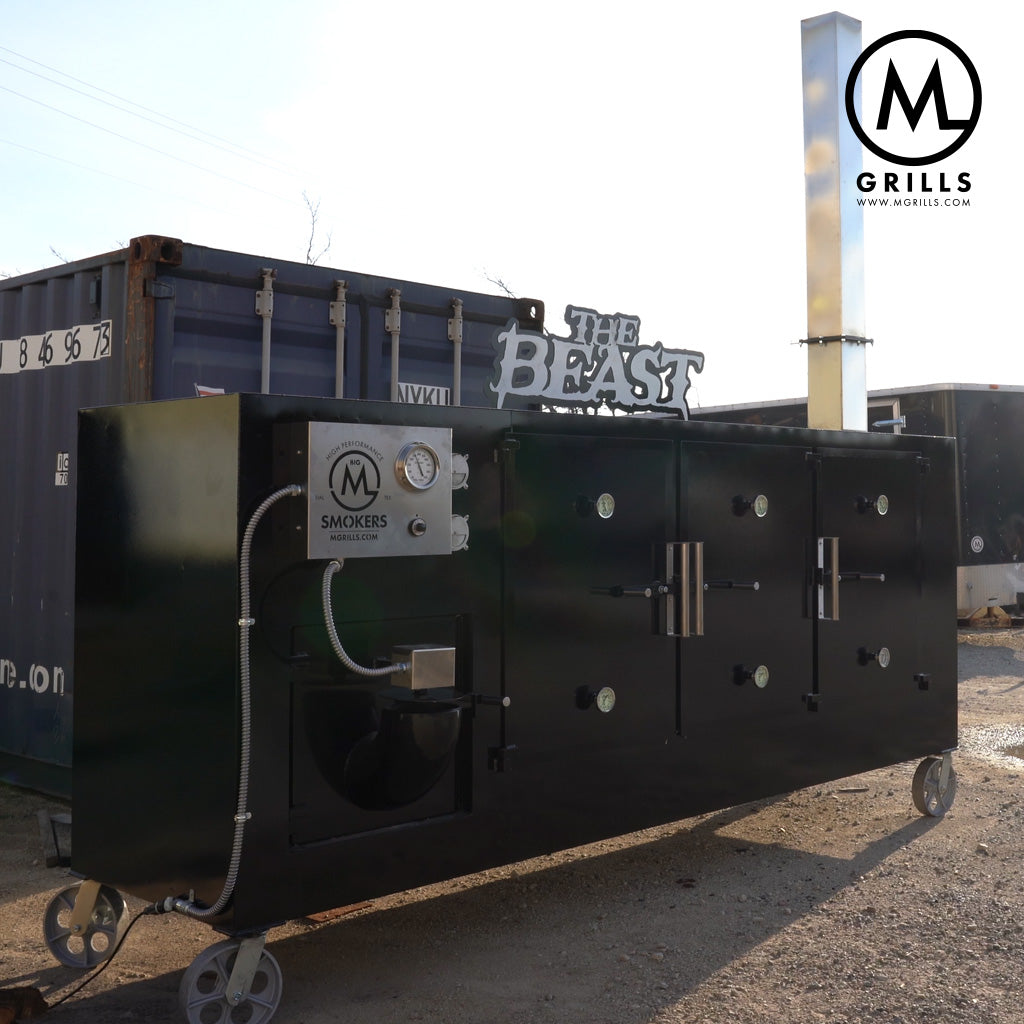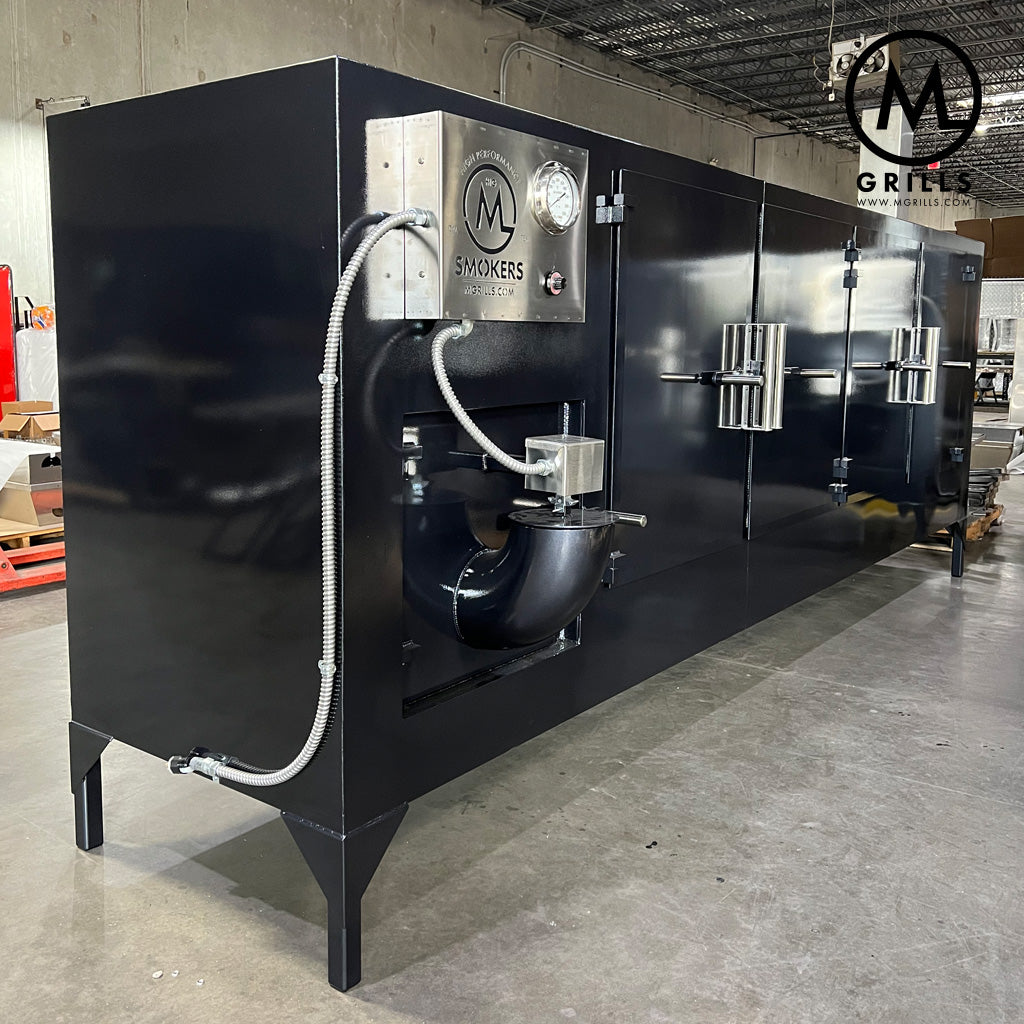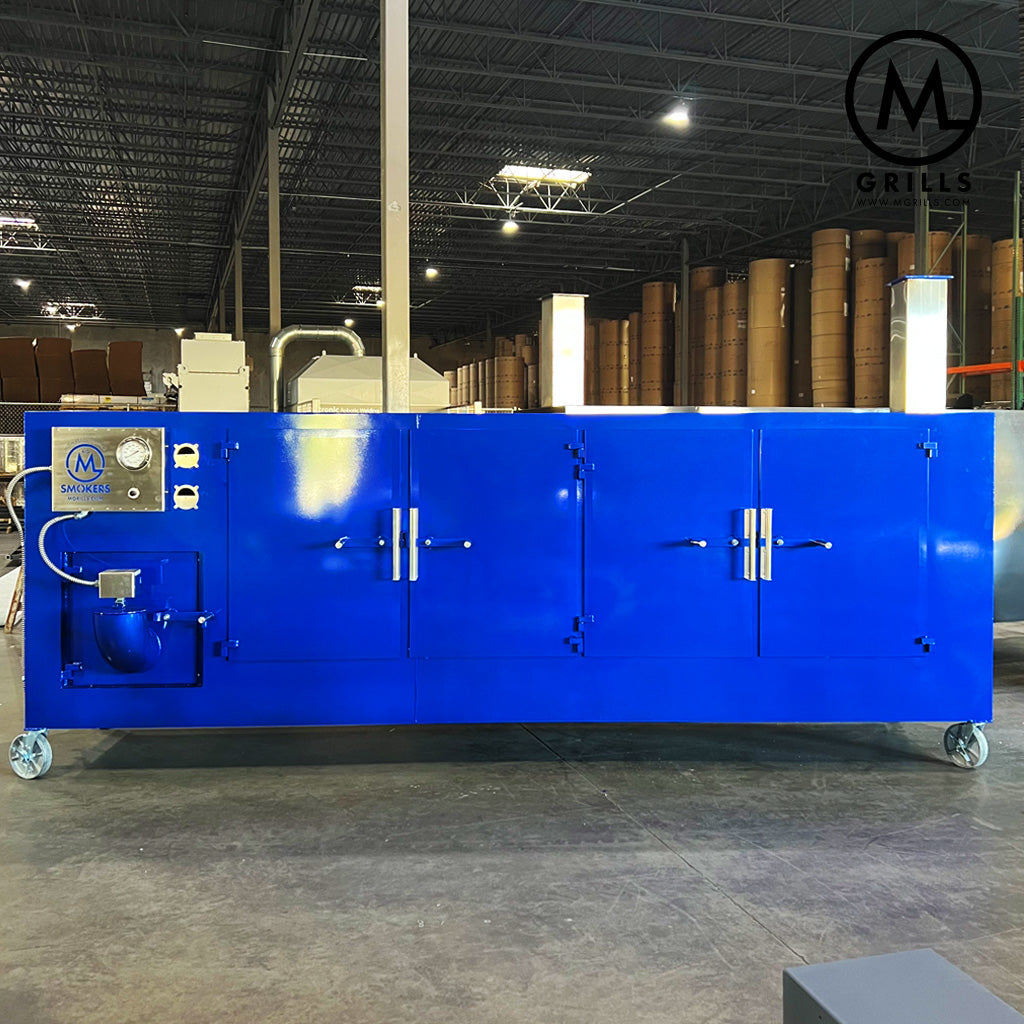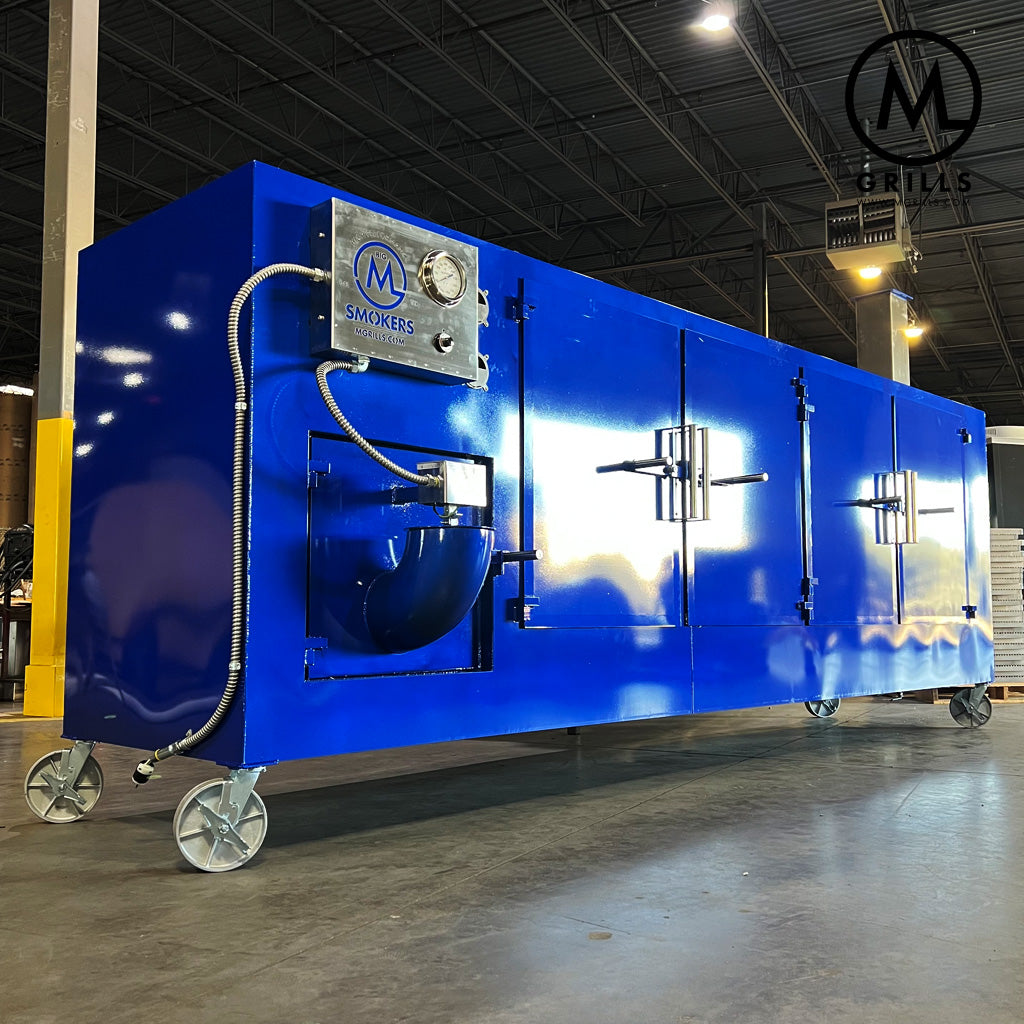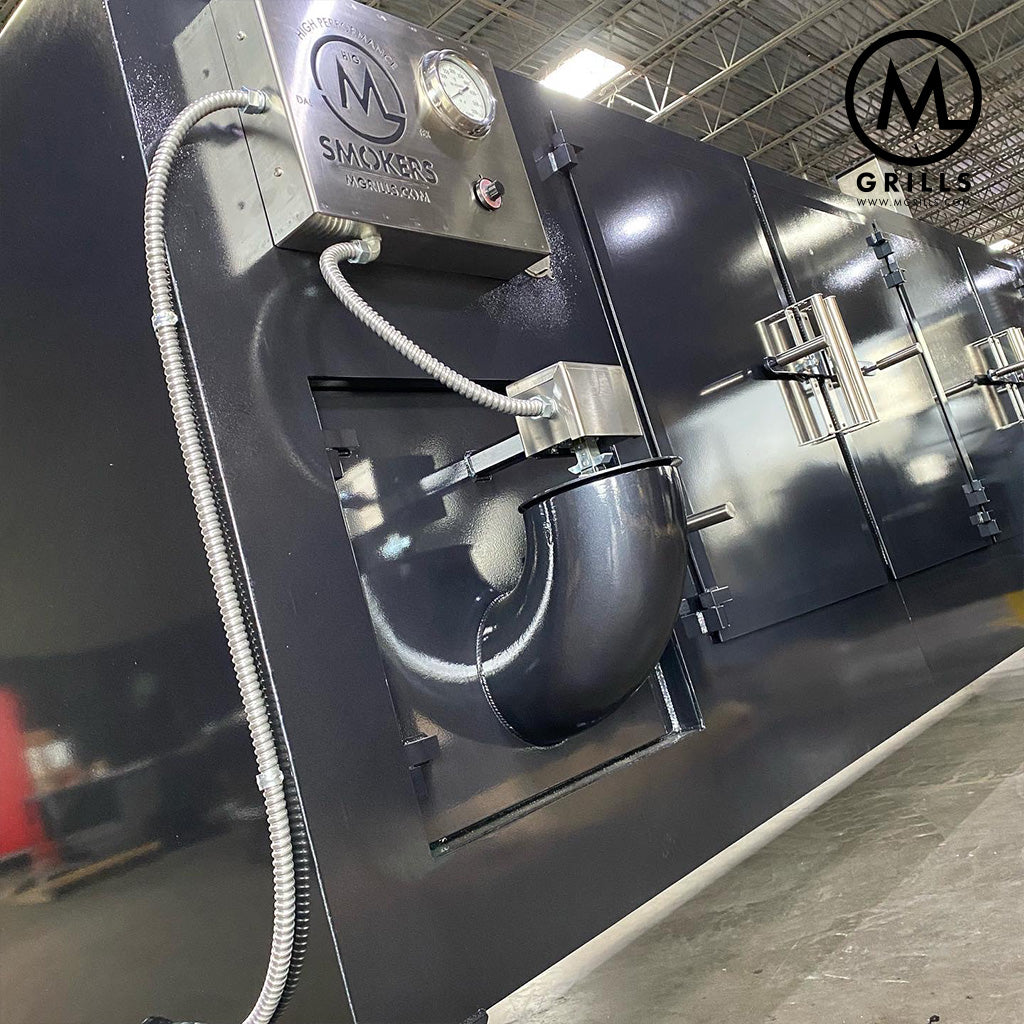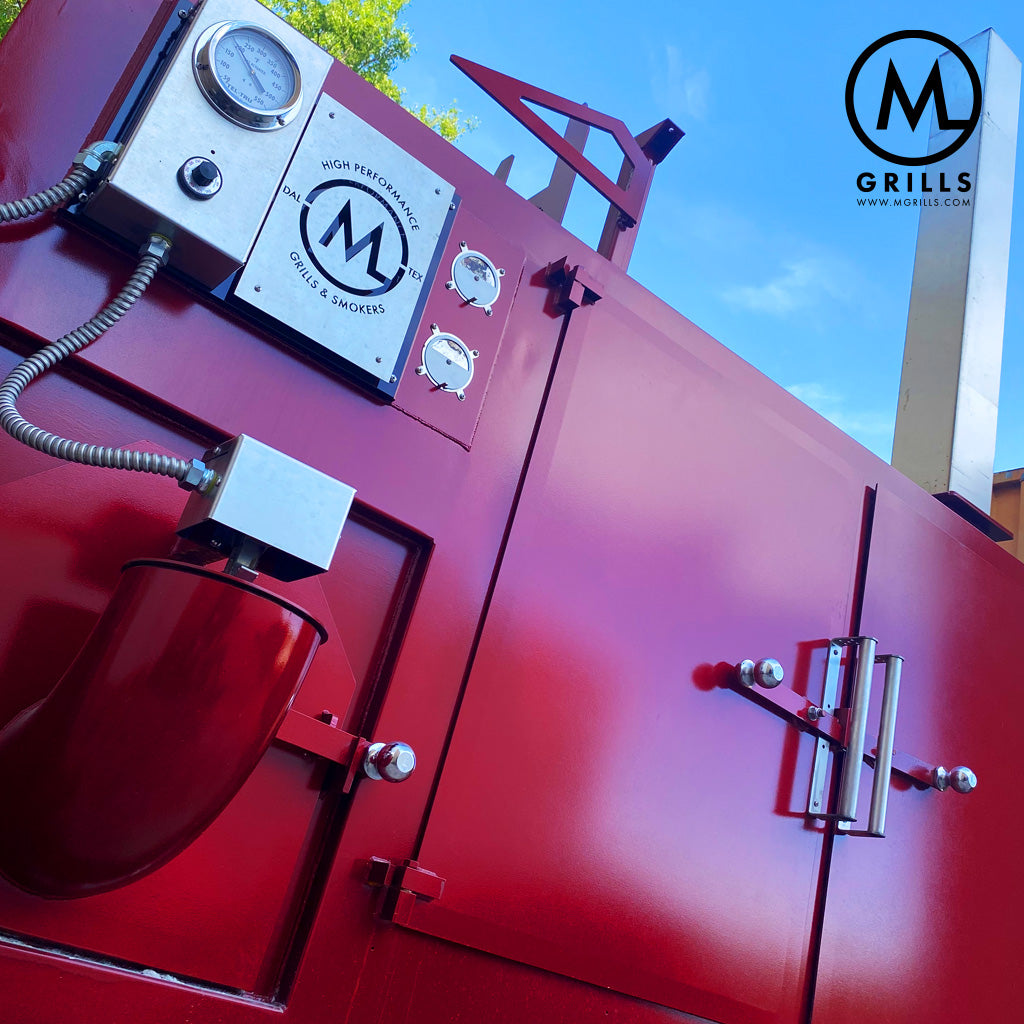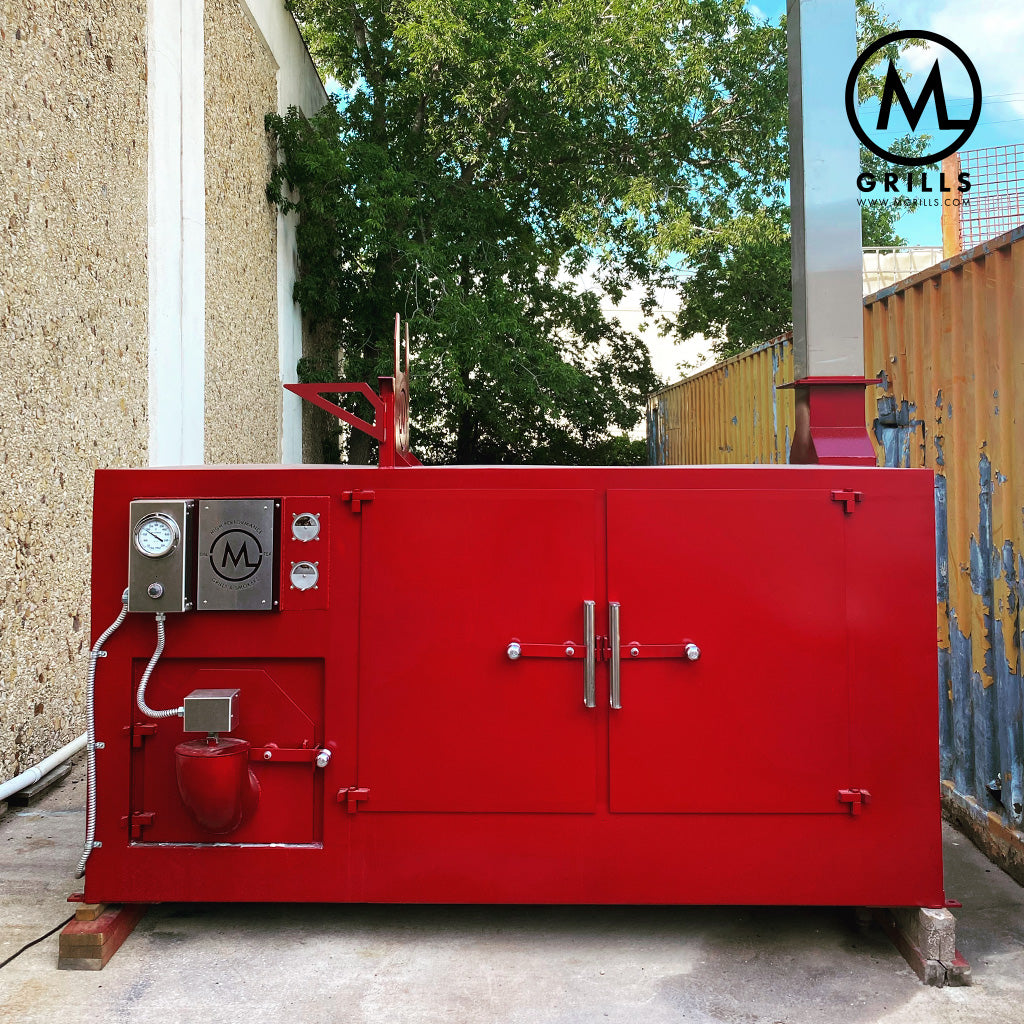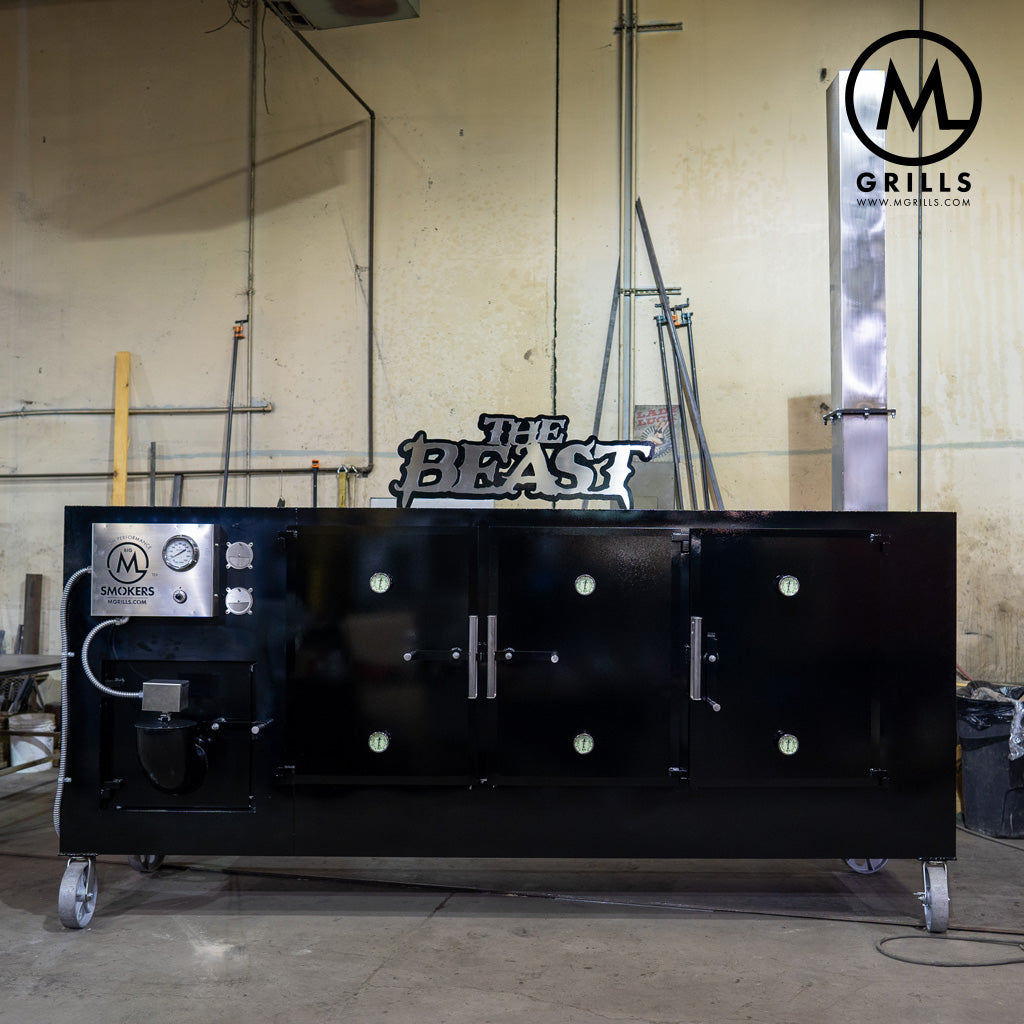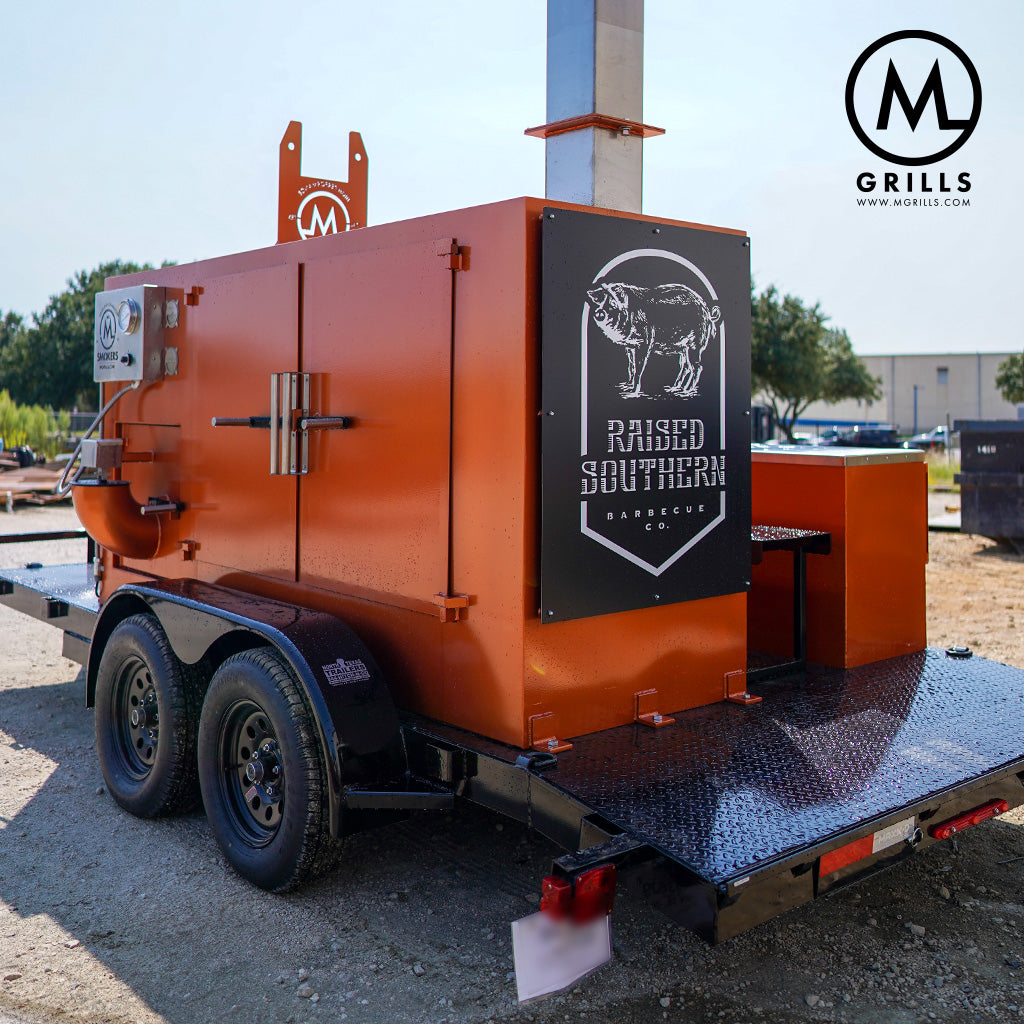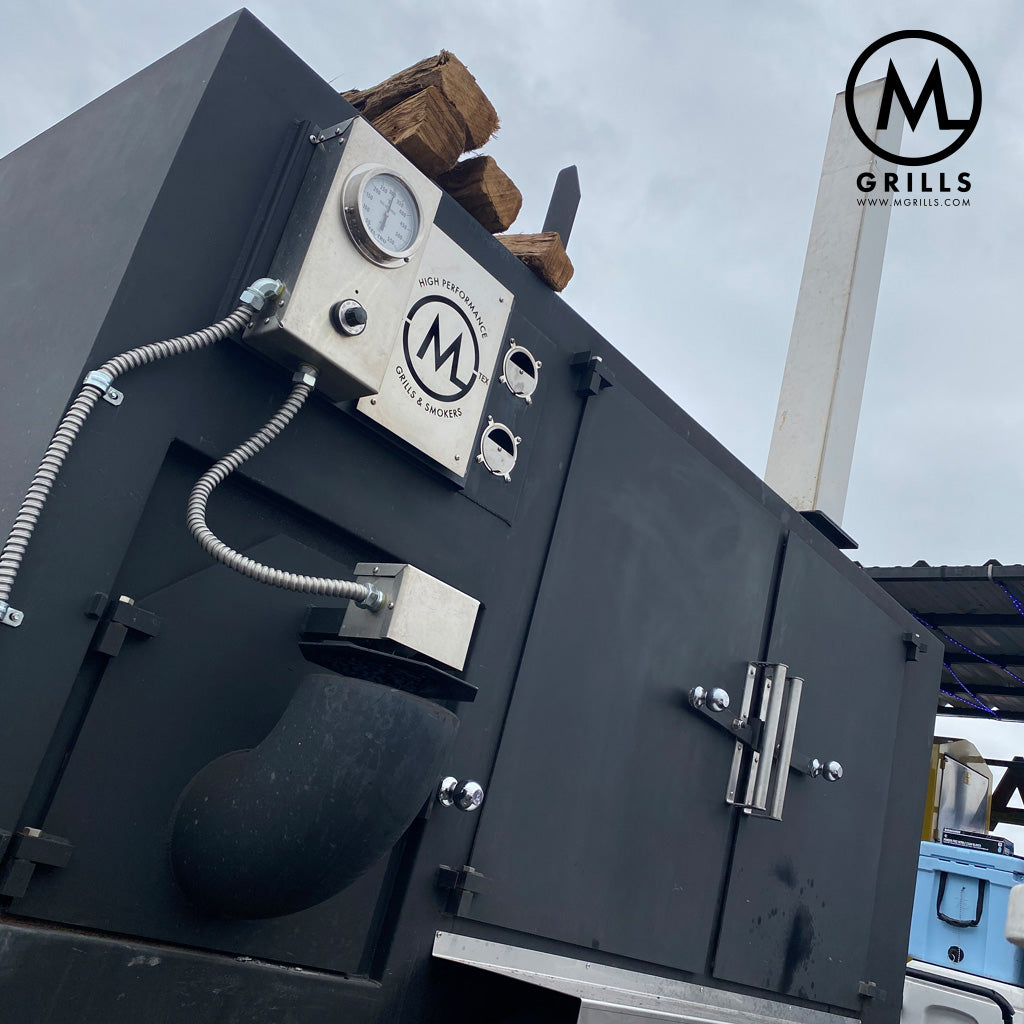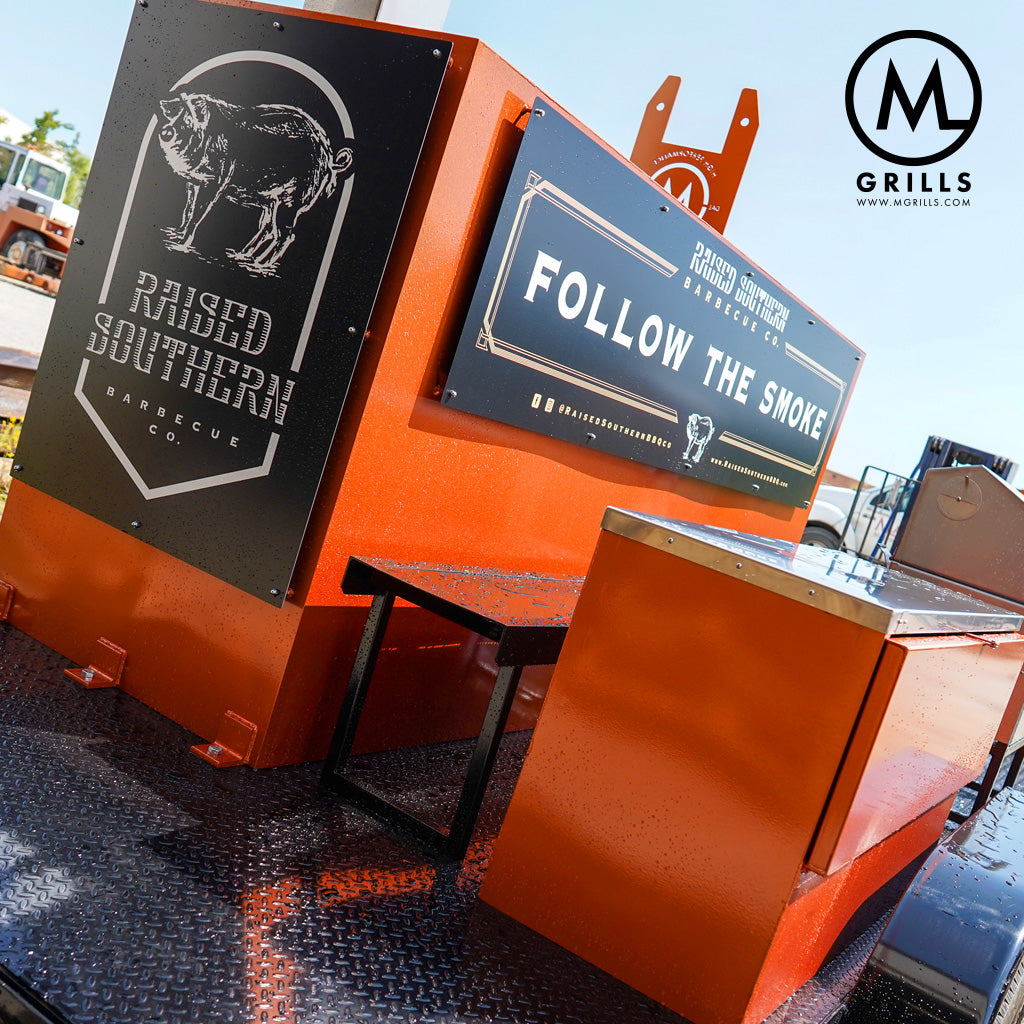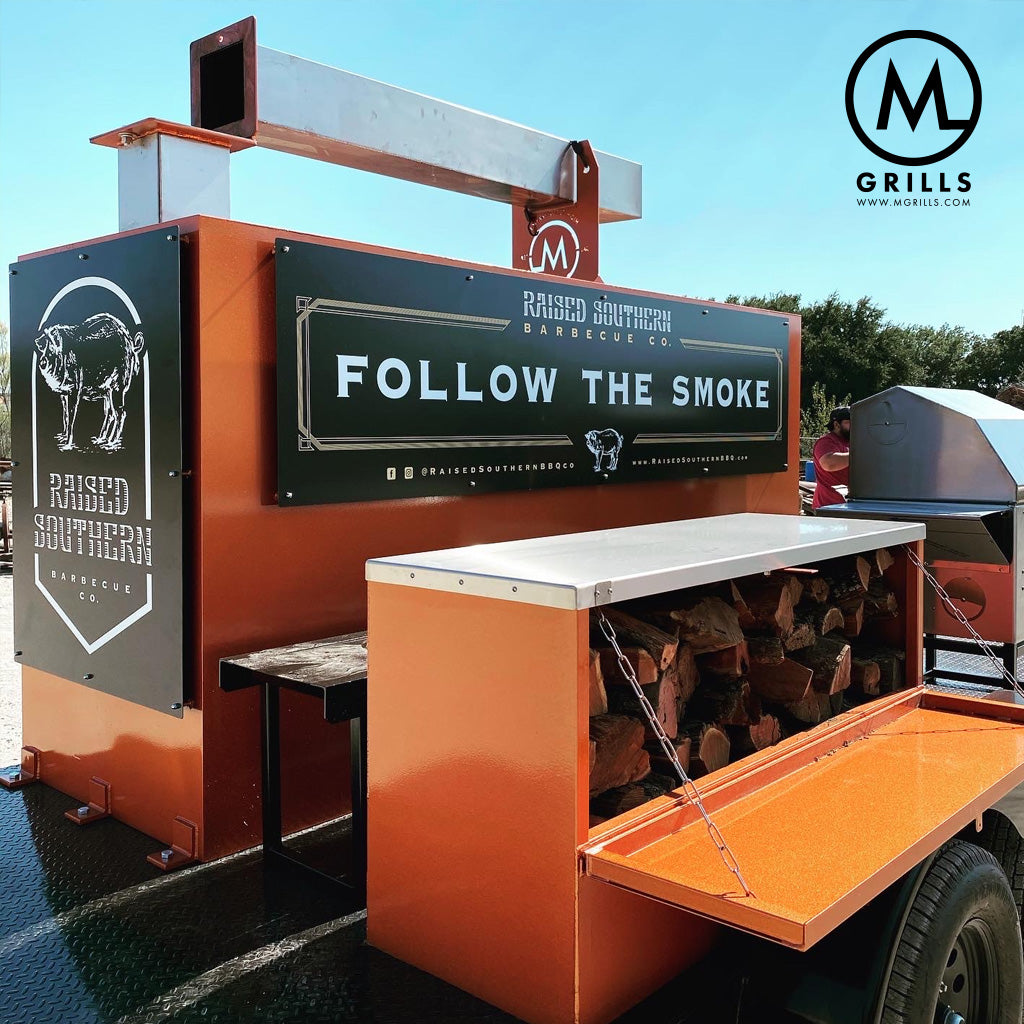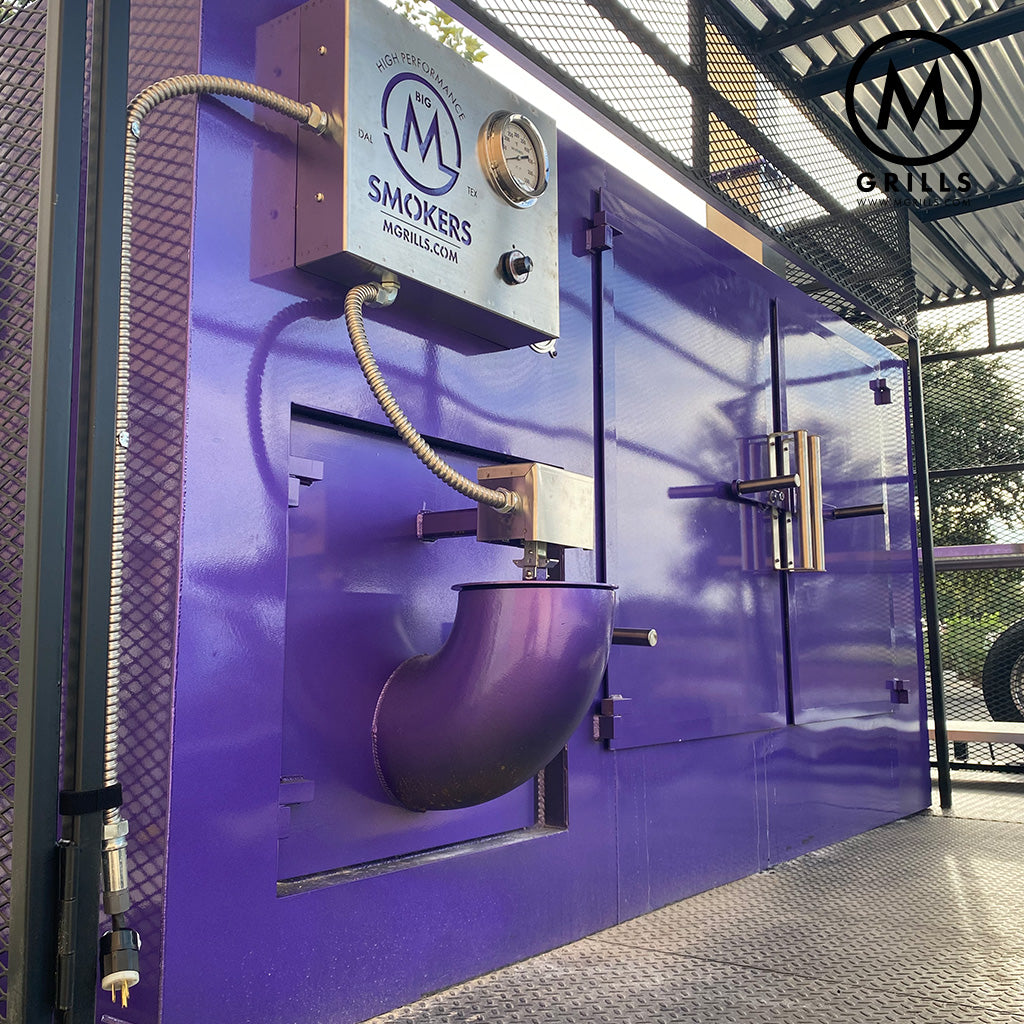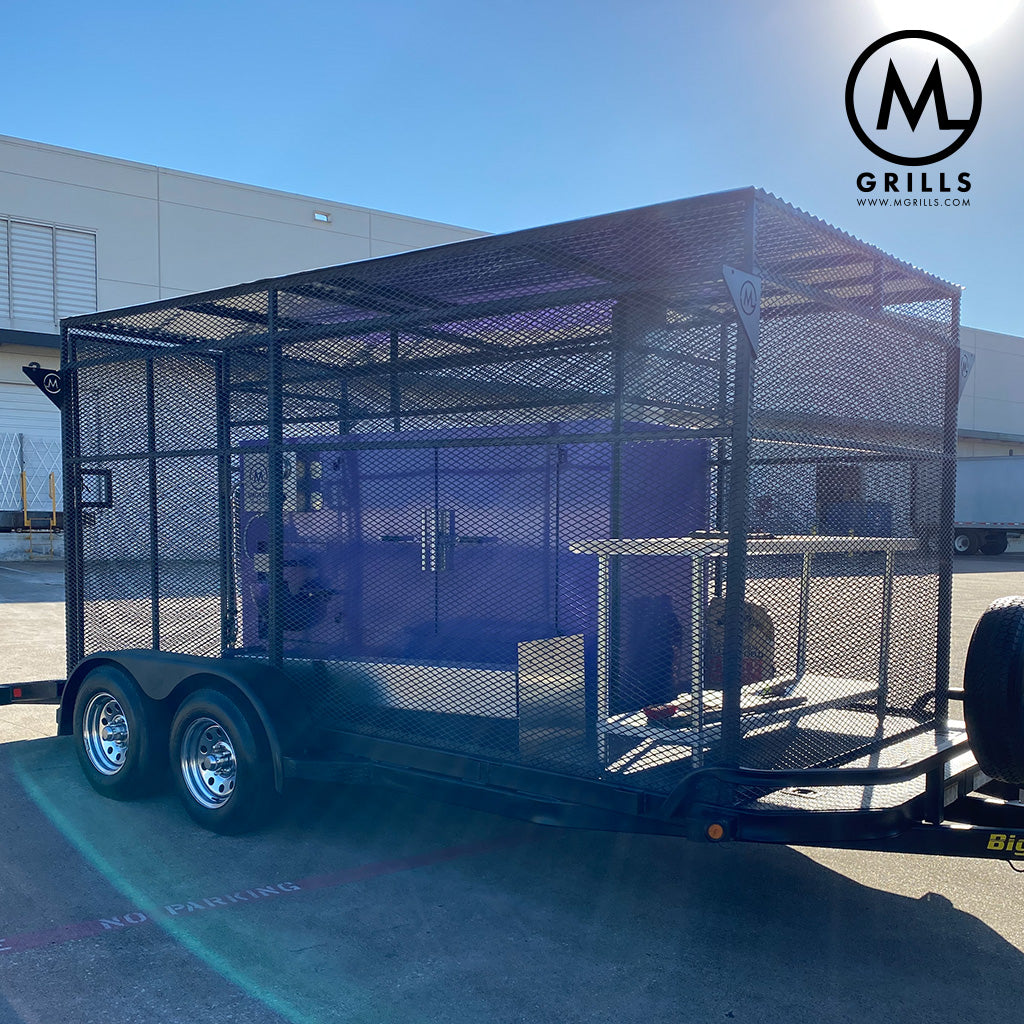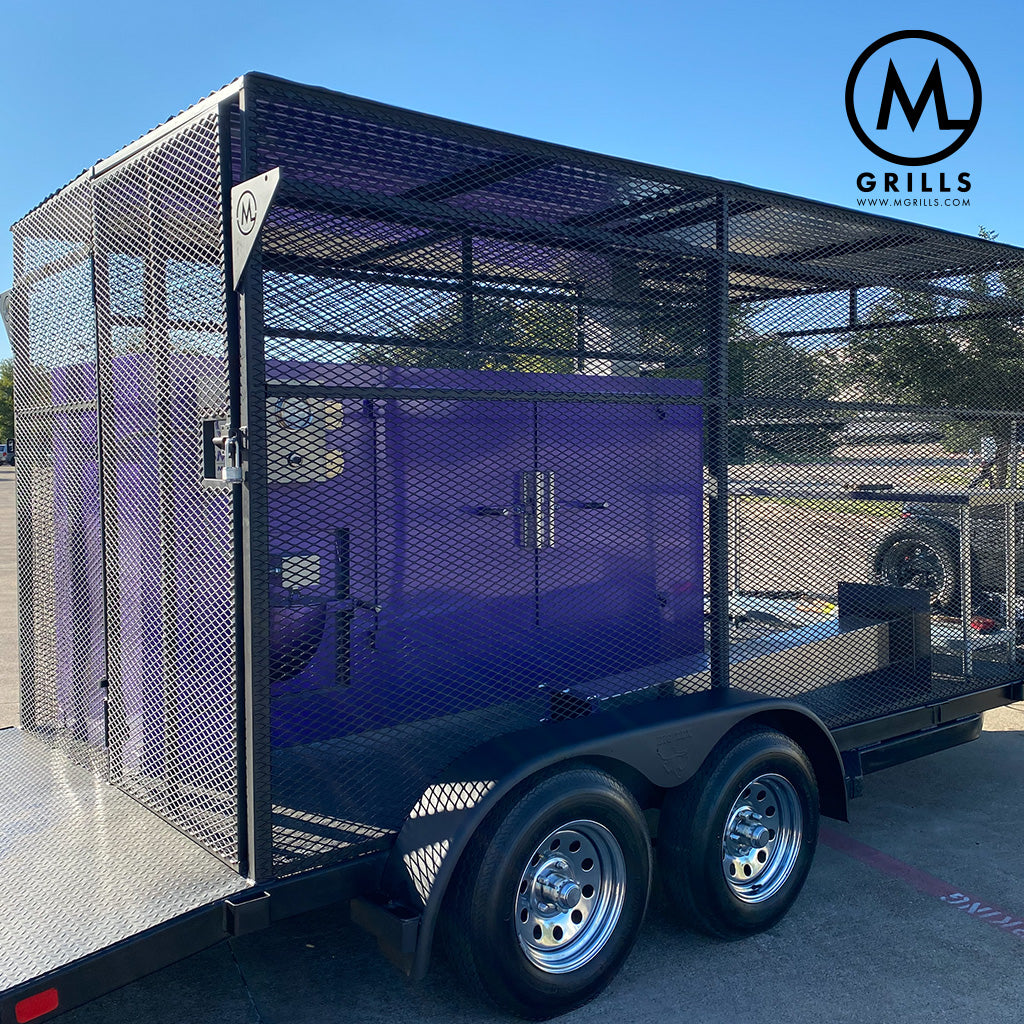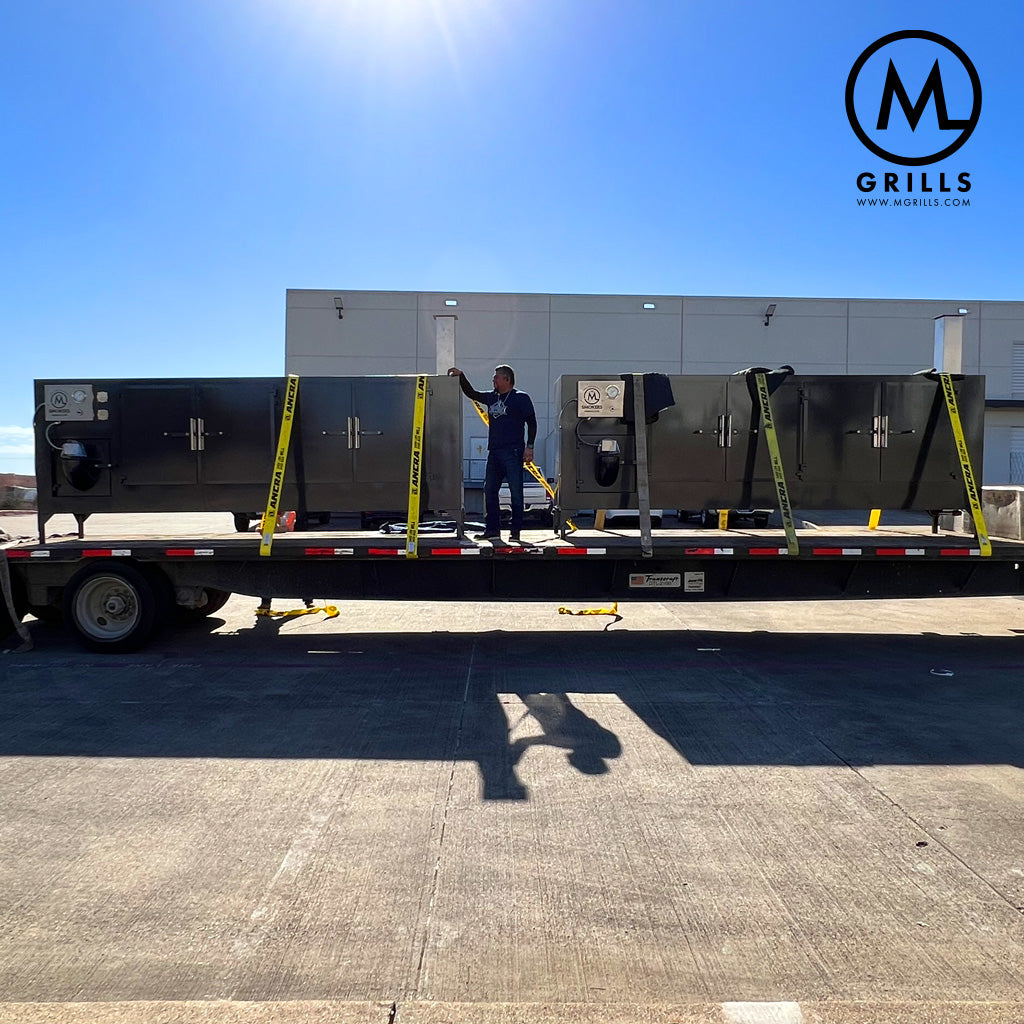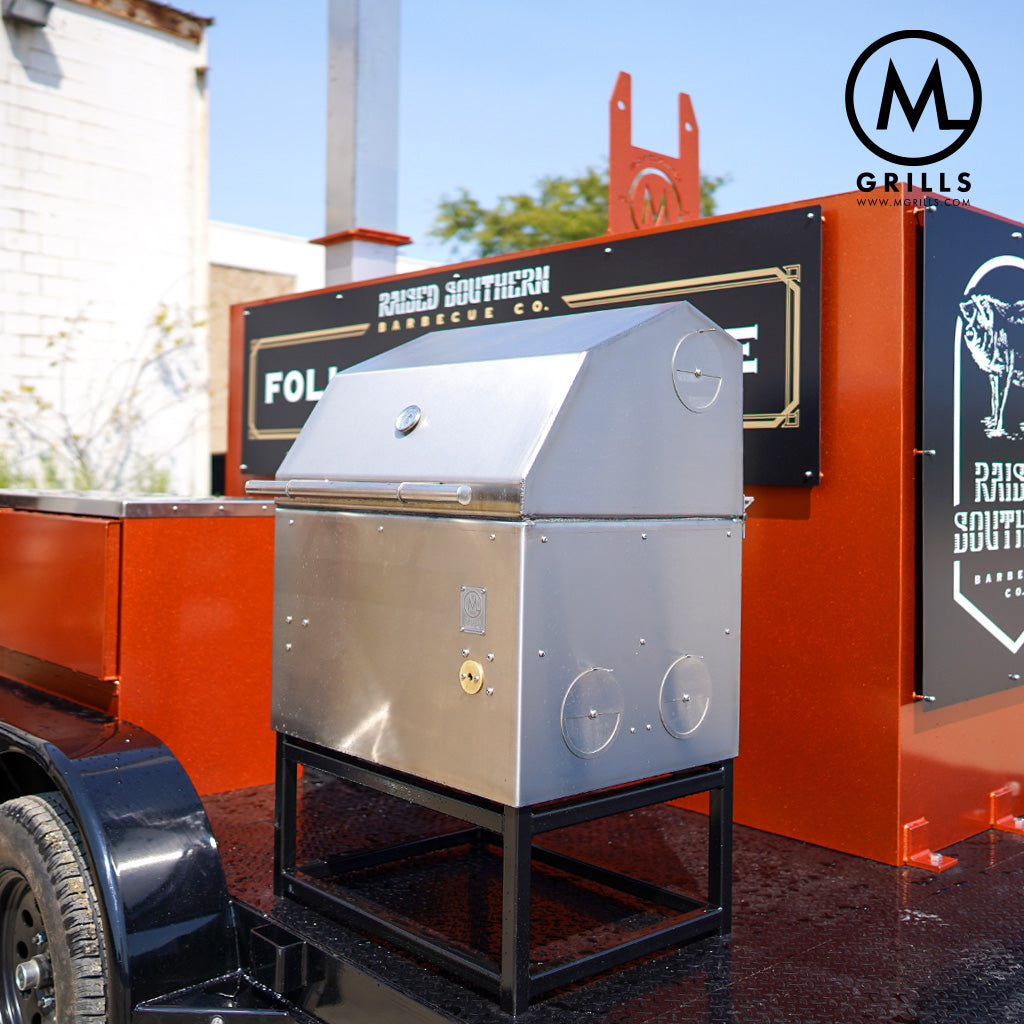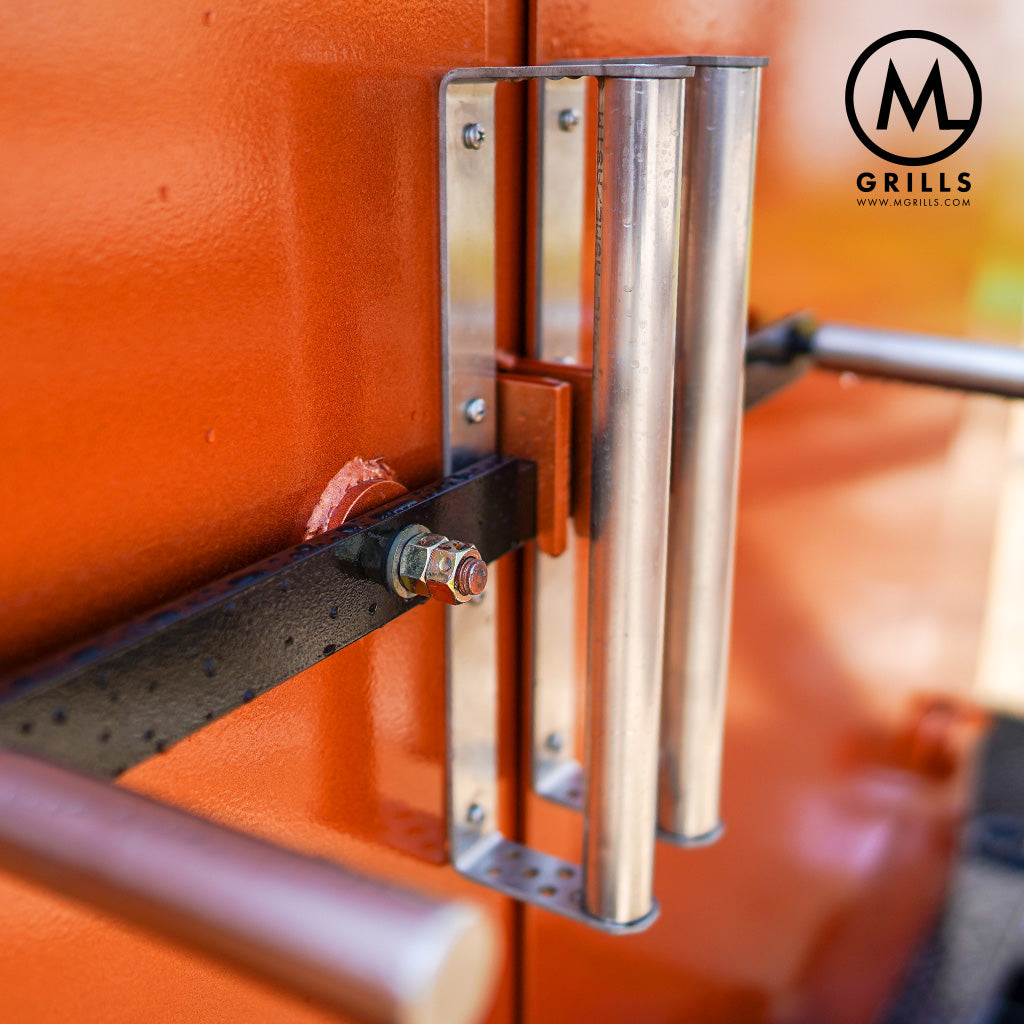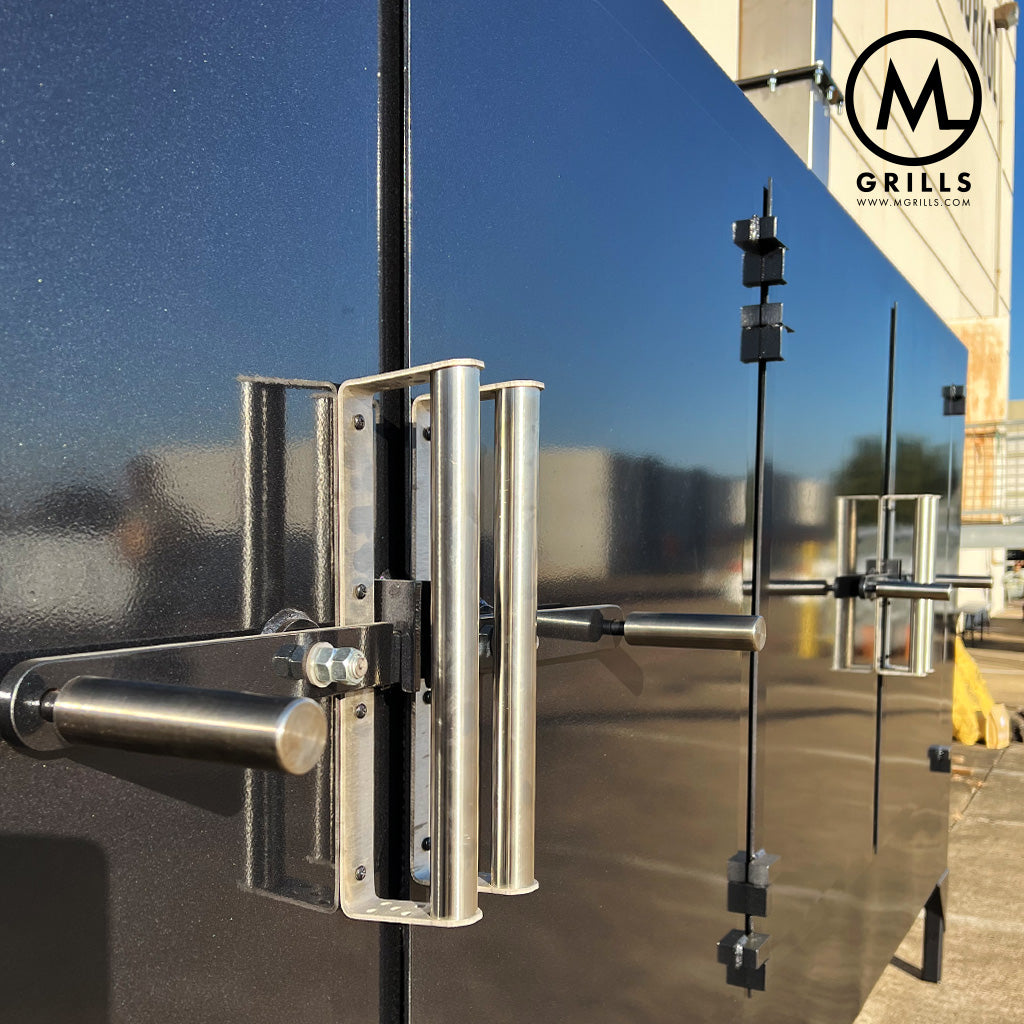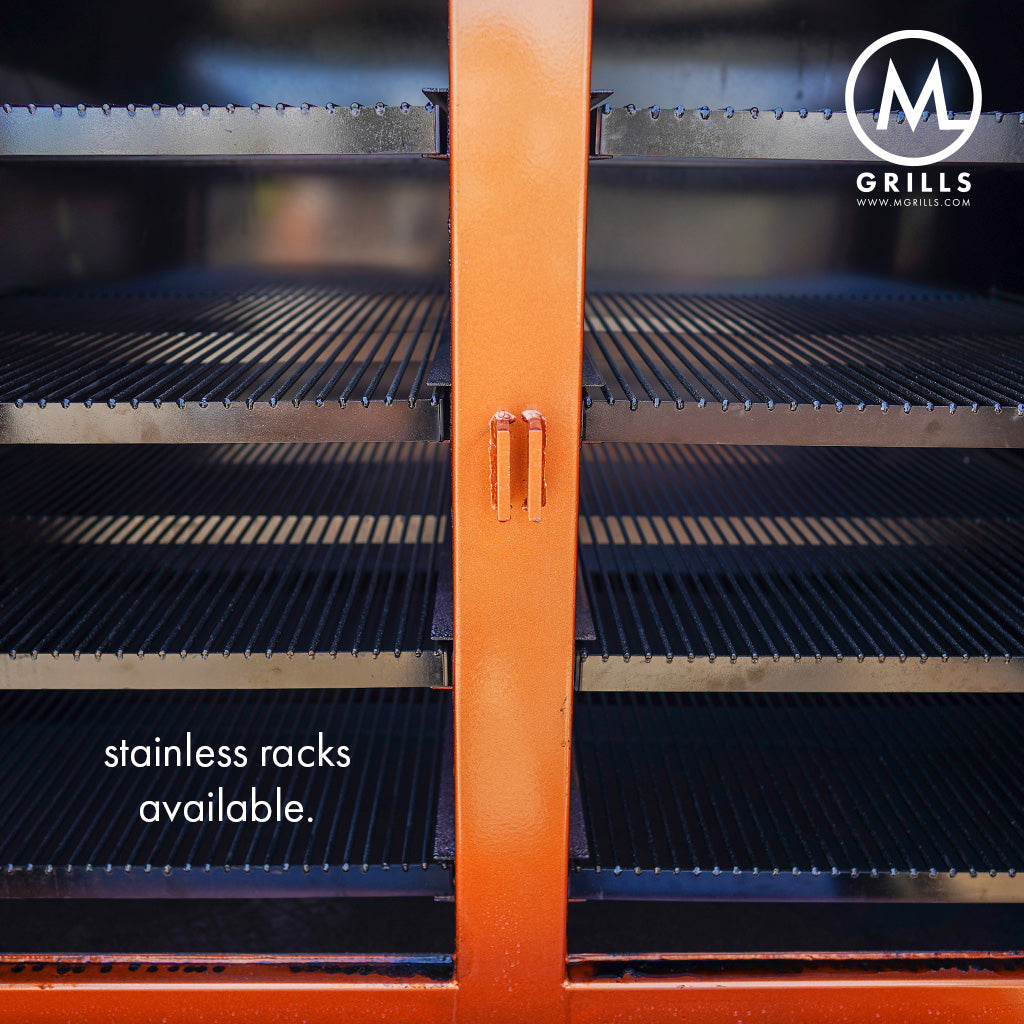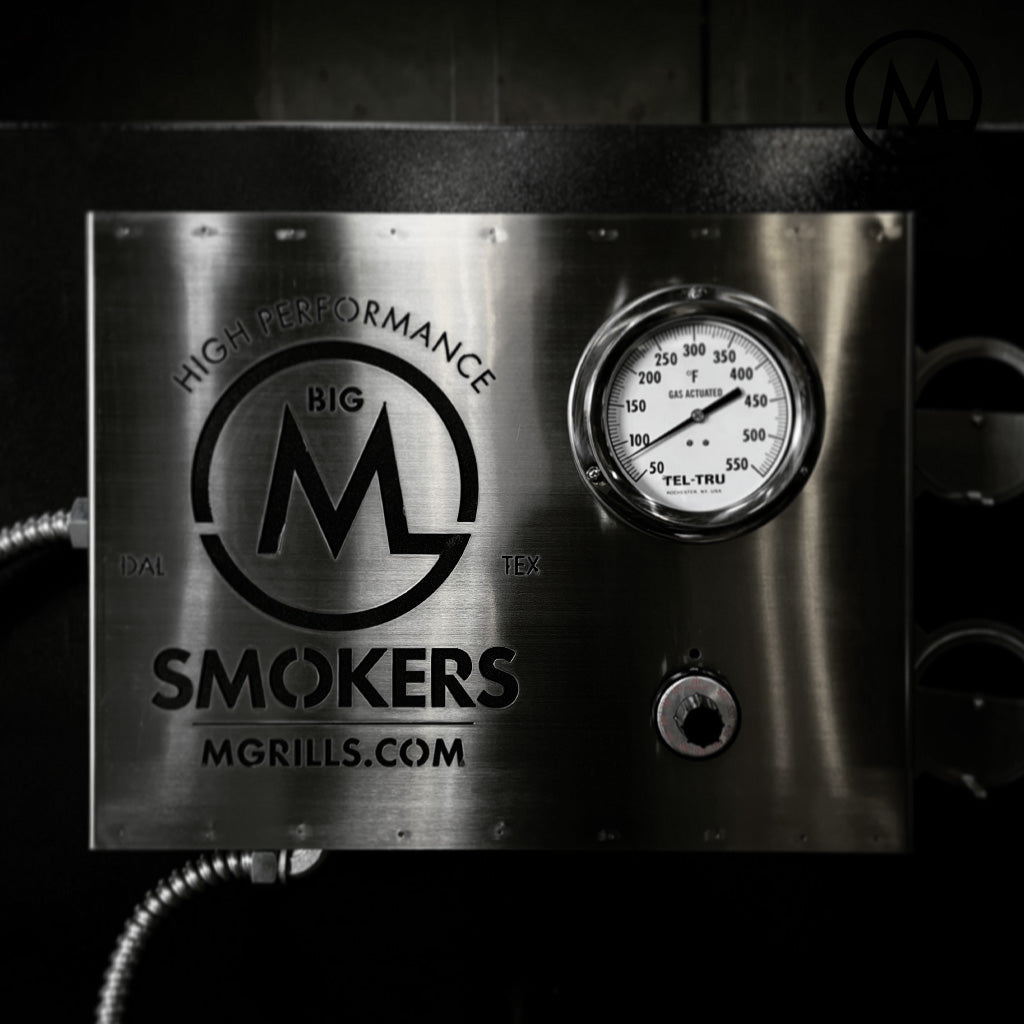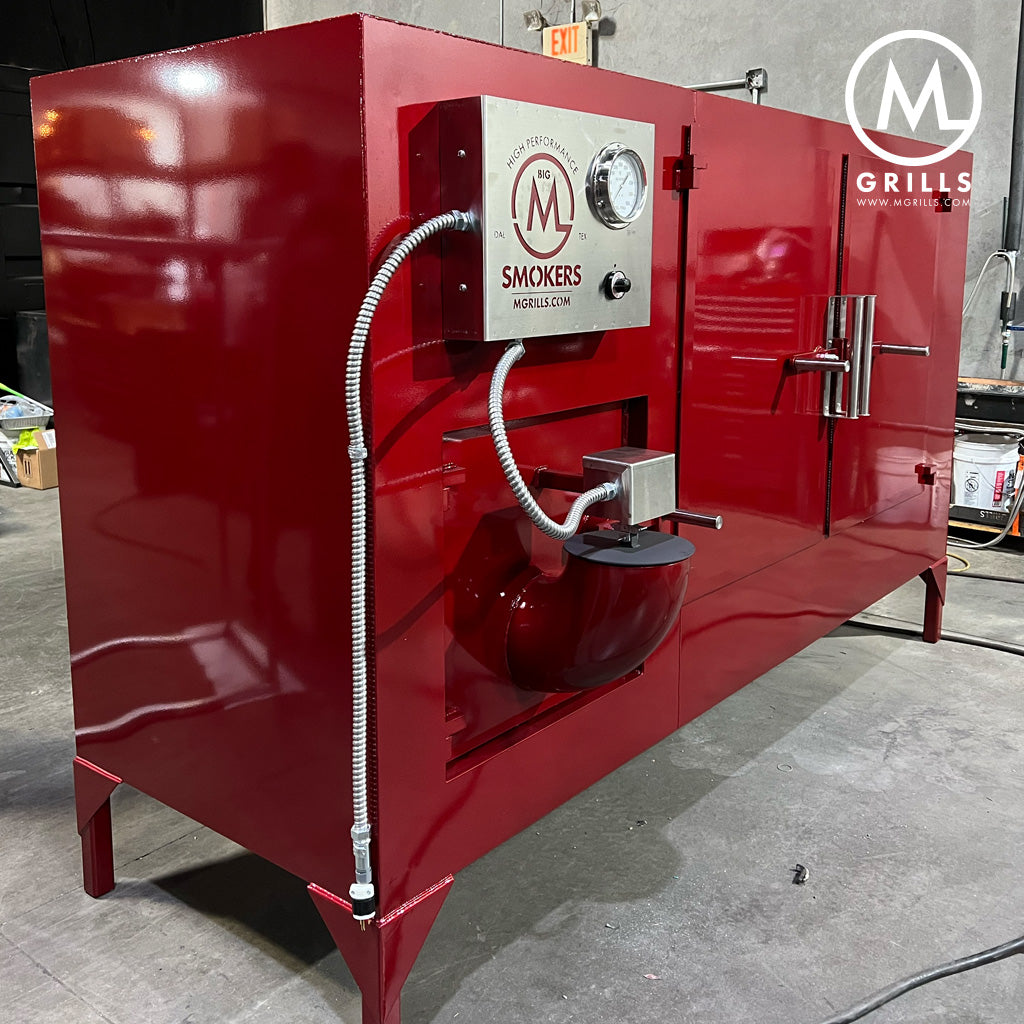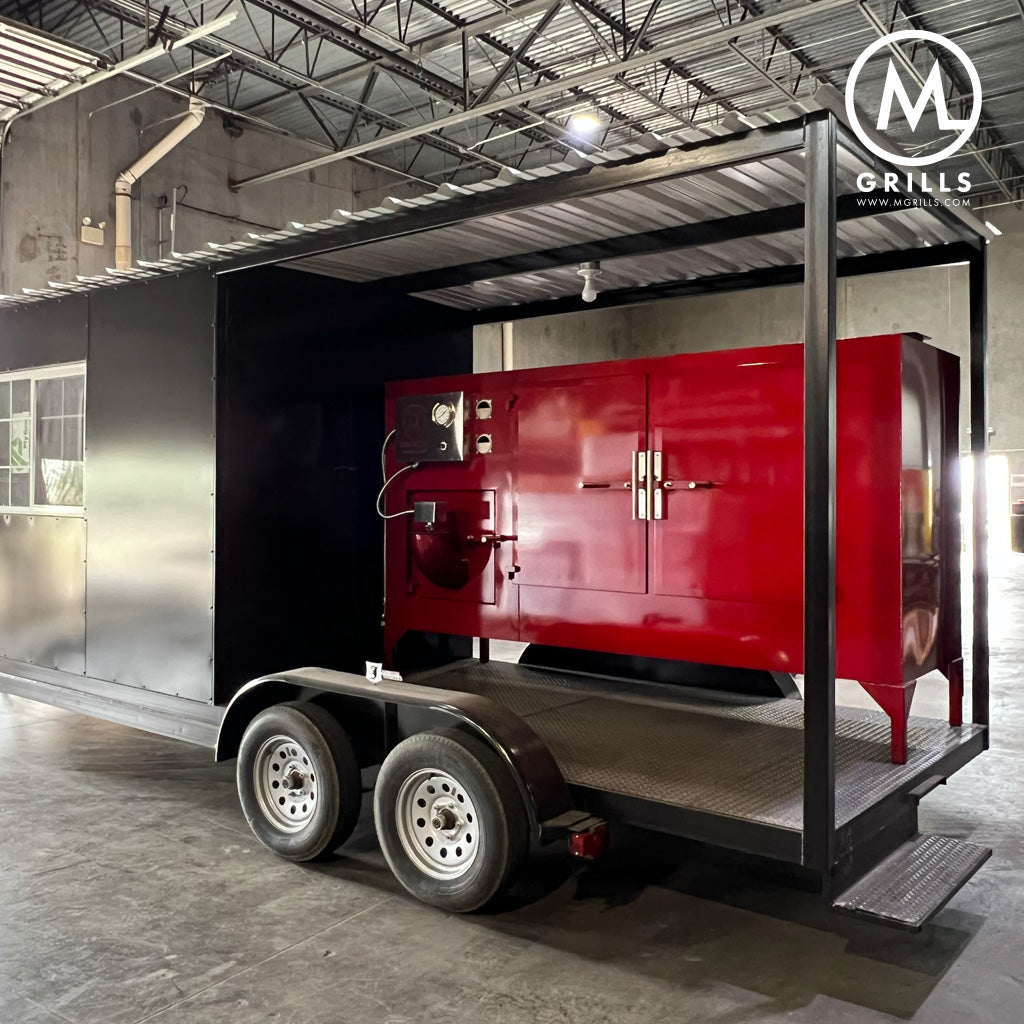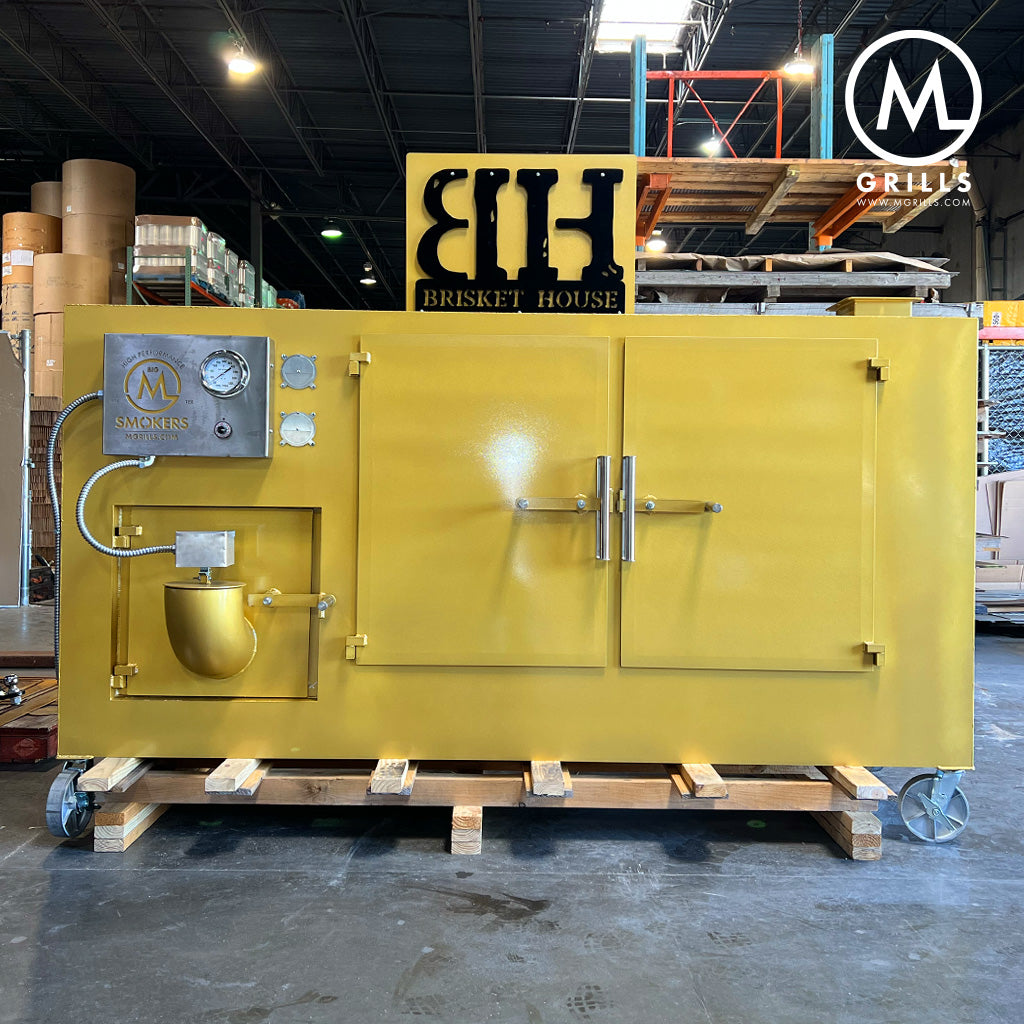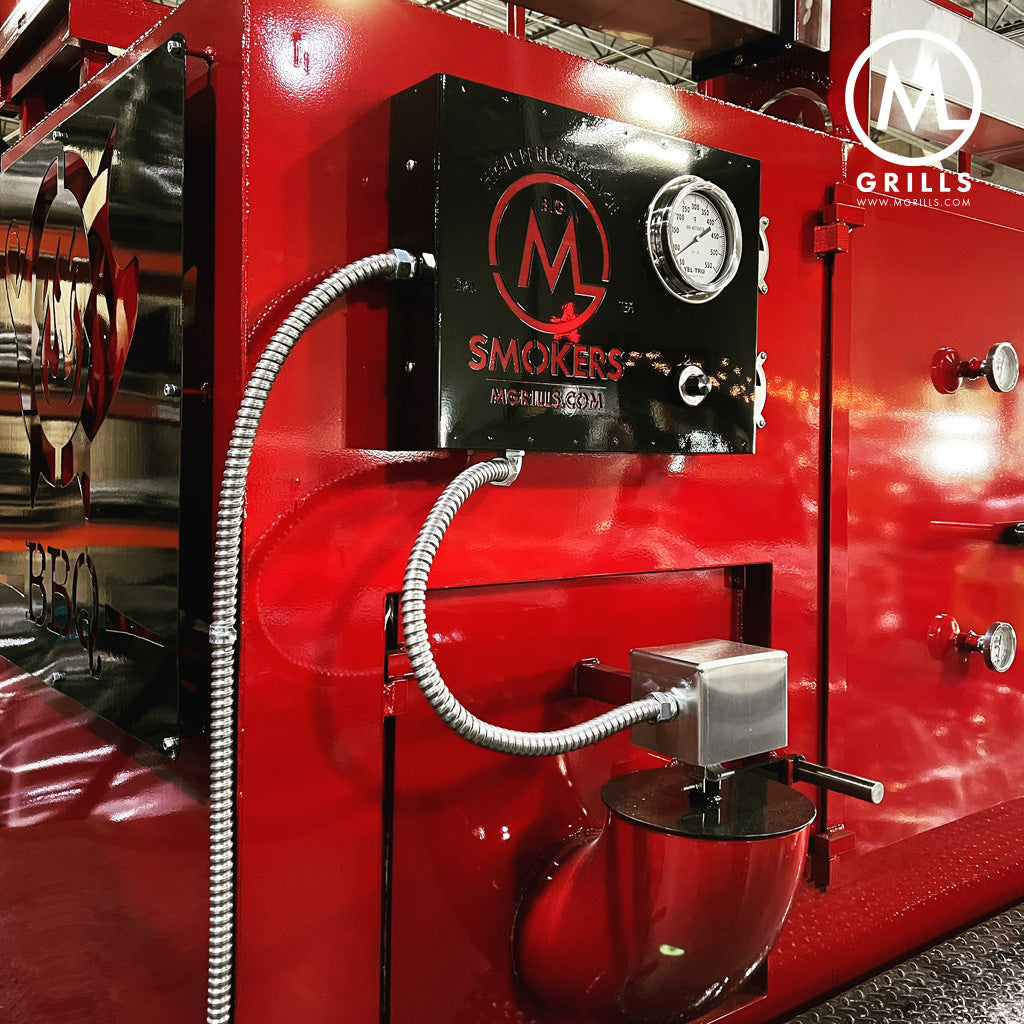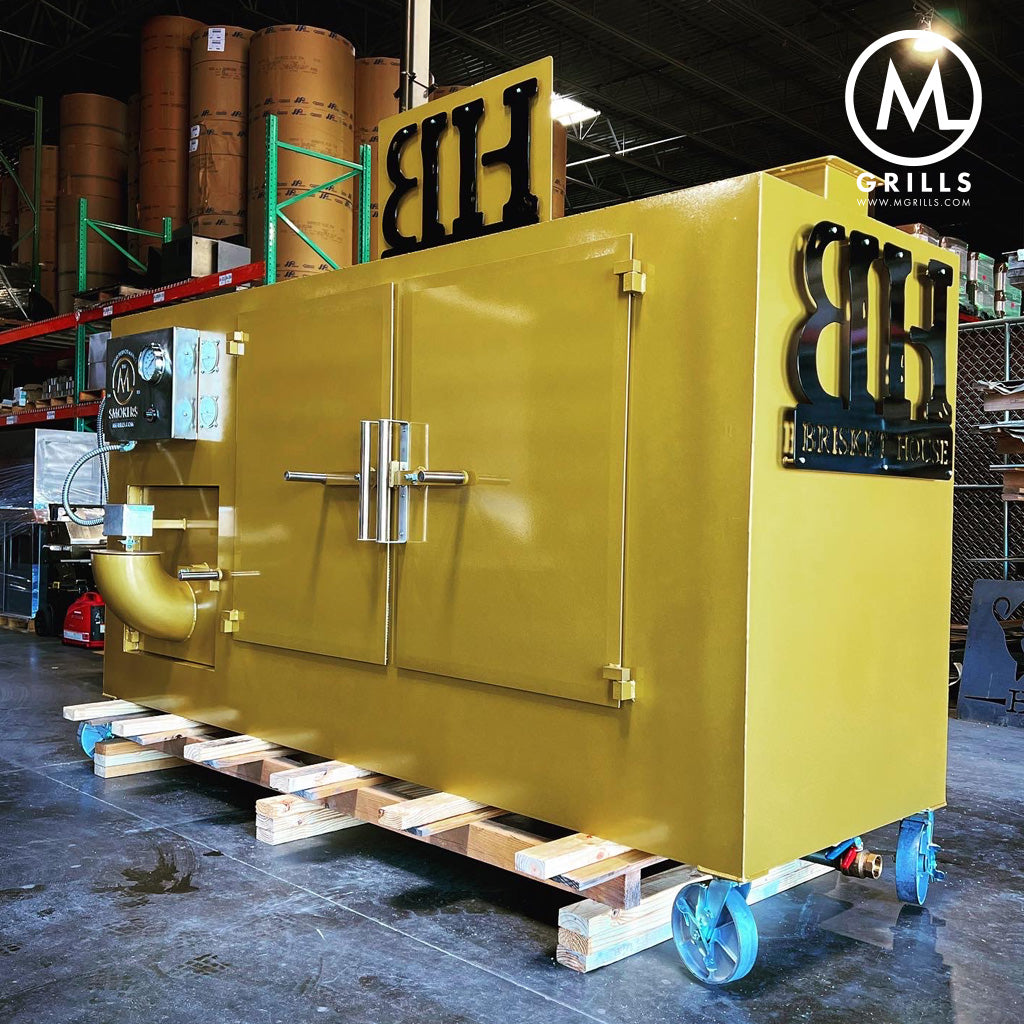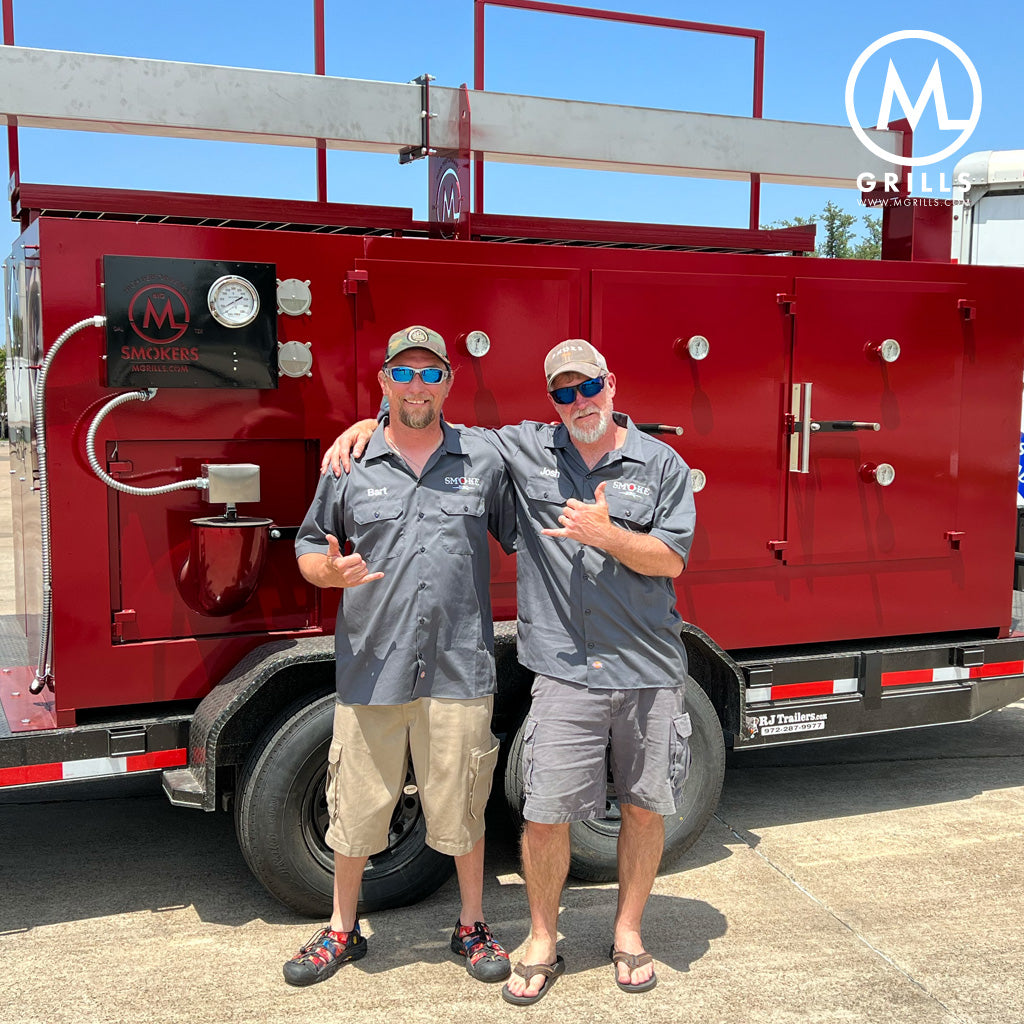 What Sets the Big M Smoker Apart
Precision Smoking With Temperature-Controlled Damper

Equipped with an innovative temperature-controlled damper unit, the Big M sets a new standard for precise temperature management. Its large airflow intake ensures efficient combustion when using wood, while strategically placed air ports in the damper system maintain just the right amount of airflow, even when the solenoid closes off the intake. This means consistent, thermostat-controlled wood-fueled smoking, just like large offset smokers but far more efficient.

Reclaim Your Time & Money with Superior Insulation

Gone are the nights of losing sleep while tending to your smoker thanks to the Big M's insulation, which can run up to 12+ hours with an established hot bed of coals and up to 16" splits of wood. Instead of throwing a few sticks of wood every 30 minutes on a large offset smoker to keep consistent temperature, the same amount of wood will run a Big M Smoker for hours completely unattended. This will save you precious time and money in the long run without sacrificing the quality of your barbecue! 

Stationary Racks Means Less Moving Parts & Reliability

Why no rotisserie? For us, it comes down to reliability. That's why the Big M Smoker features stationary cooking shelves instead of a rotisserie system. This choice minimizes the risk of moving parts failing during a cook. Even in the rare event of a thermostat or solenoid issue, you can still operate the smoker as a traditional offset while easily replacing any external parts if needed.

Built to Last With Unmatched Durability and Longevity

Crafted with precision and unparalleled attention to detail, the Big M Smoker is built to last. Its body is fabricated from 12-gauge mild steel interiors with 2 inches of high-density thermal insulation and a 12-gauge mild steel fully welded exterior. This robust construction ensures longevity and optimal insulation for consistent cooking. The quality of steel used in its production is unmatched, guaranteeing years of reliable performance.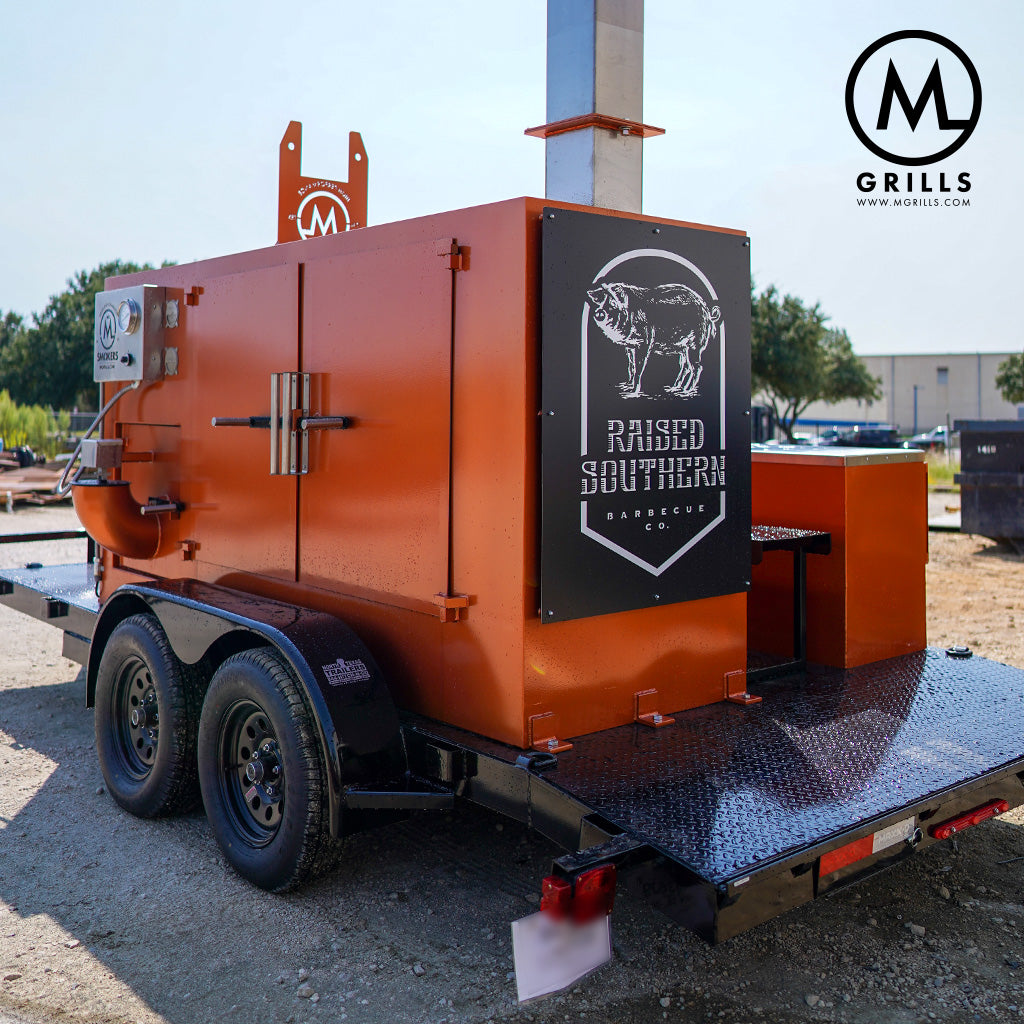 Crafted for Your Unique BBQ Experience
Make your Big M Smoker as unique as you are with our customization options. Tell our team where you're putting your smoker, and we will fabricate it for your unique situation.
Choose Your Color
Add Your Logo
Custom Mounting Options
PRODUCT DIMENSIONS & CAPACITY
Main body height with standard legs: 70"
Overall height with legs and stack: 124"
Available in 6', 9', 12', and 15'
Overall depth with firebox intake: 45"
Capacity:
9'    2 Door - 8 racks - 350 to 400 pounds of meat.
32 : 18-20lb turkeys
40 : 12-14lb turkeys
24 : 15-18lb briskets
32 : 8-12lb briskets
12'  3 Door - 12 racks - 525 to 600 pounds of meat. 
48 : 18-20lb turkeys
60 : 12-14lb turkeys
36 : 15-18lb briskets
48 : 8-12lb briskets

15'  4 Door - 16 racks - 700 to 800 pounds of meat. 
64 : 18-20lb turkeys
80 : 12-14lb turkeys
48 : 15-18lb briskets
64 : 8-12lb briskets 
We can add up to 6 racks per door.
This can increase your capacity by 100lbs of meat per door!
You can choose to from 4 racks, 5 racks or 6 racks. We recommend 6 racks to load your smoker with low profile foods such as ribs. 6 racks will give you 5" of clearance between each rack.
History of the Big M Smoker
In the late 1980's Homer "Mack" Magee designed and built these smokers for a local barbecue restaurant. The first of these cookers were being used over 20 years ago and still being used today. The current Big M Smoker is still built with these original plans in mind with some modern modifications to give it the M Grills twist. The craftsmanship, build quality and performance are some of the best you have ever seen from any smoker manufacturer in the world.