Regular price
$ 599.00 USD
Regular price
$ 749.00 USD
Sale price
$ 599.00 USD
Unit price
per
Sale
Sold out
This product is made in the USA with American Steel! Learn why "Made in America" still matters.
When you're serious about barbecue, you don't compromise. Whether it is neighborhood supremacy, your next tailgate, or the BBQ championships, the M80 is designed for those who demand American made ruggedness, precision, and portability. It's a compact powerhouse that matches the performance of our legendary M16, trusted by World Champion Steak Cookers and Competition BBQ experts. The M80 can be quickly disassembled for competitions or tailgating with friends. Its two stainless steel hinges on the lid make for easy removal, lightening your load during transportation. The charcoal basket and ash pan are just as easy to remove for added convenience. Now, you get all that expertise in a smaller, more versatile package.
Designed for easy breakdown and transport; only 44 pounds

Handcrafted with American 12 gauge 316 stainless steel throughout

Equipped with three GrillGrate panels covering the entire cooking surface

Quad Damper system for precision temperature control; cook low and slow or high with fast moving heat
Removable lid, charcoal basket and ash pan

Made in USA
Learn how your grill is shipped here.
View full details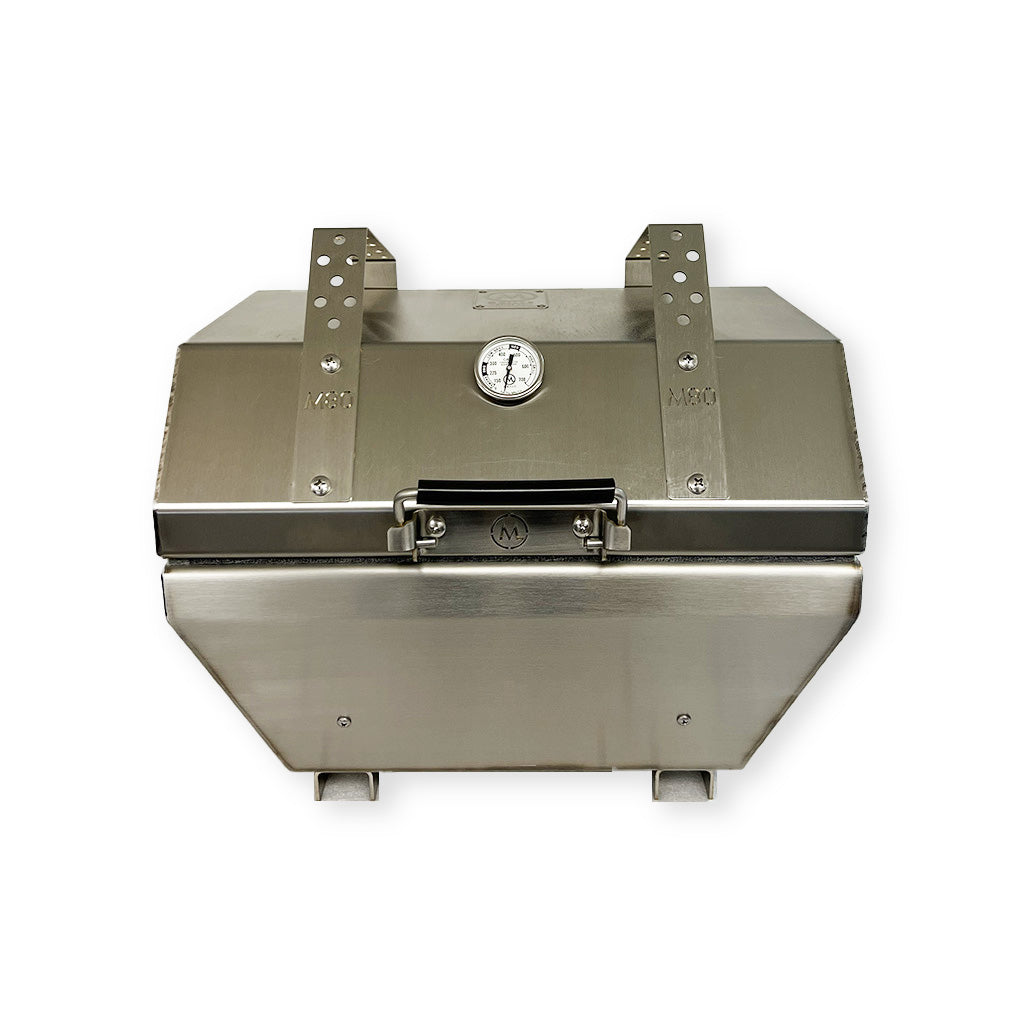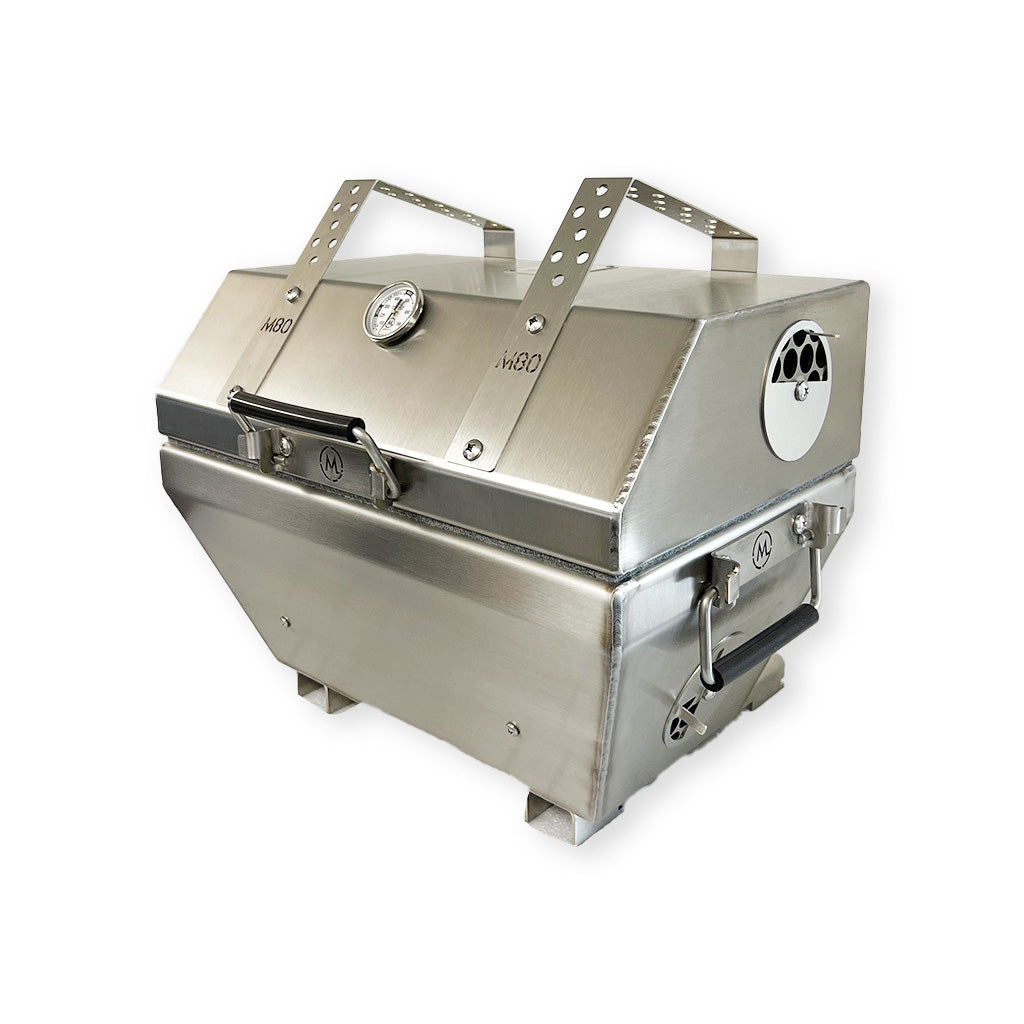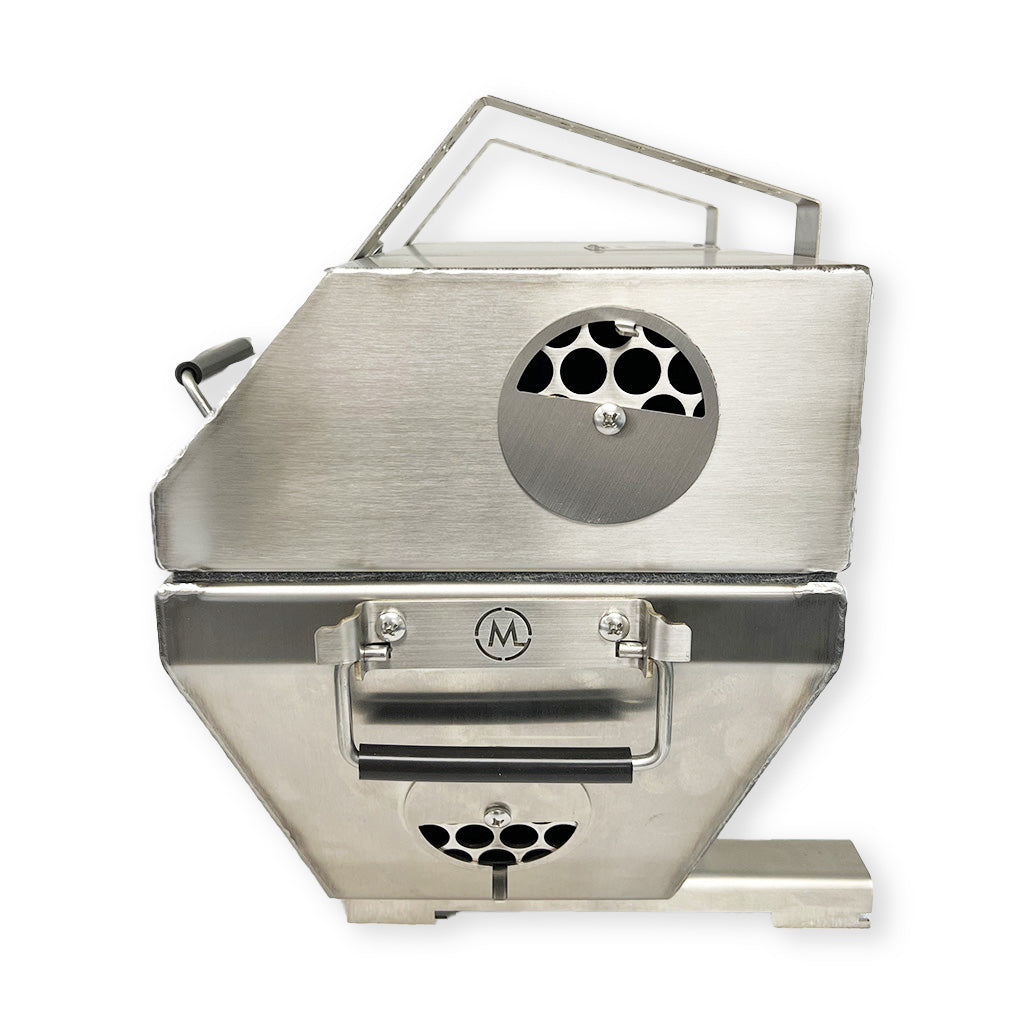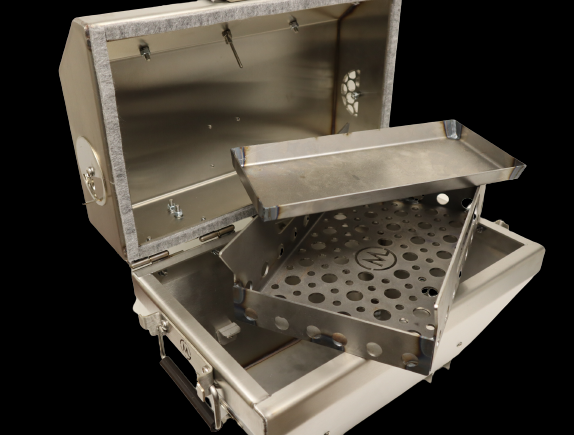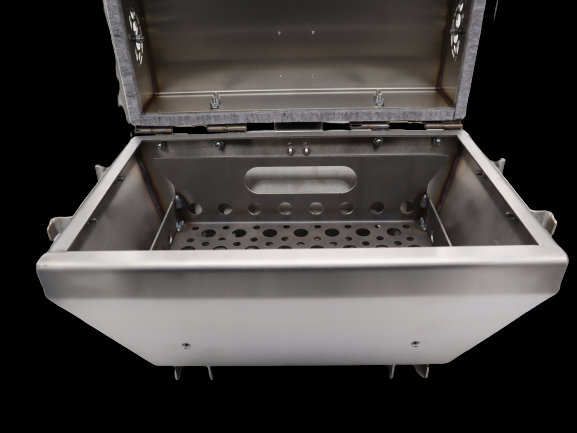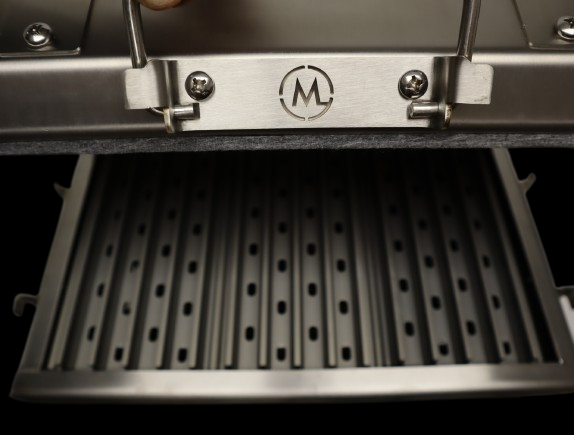 Experience Professional-Level Grilling
 Quad Damper Control; Total Airflow Control 
The M80 empowers you to master BBQ with its innovative QUAD damper system. Unlike traditional designs, our strategically placed dual bottom dampers ensure constant airflow beneath the entire coal bed, eliminating erratic temperature fluctuations even on windy days. The dual exhaust dampers on the lid complete the airflow equation, creating a cooking environment where heat circulates uniformly around your food. With precise damper controls, you'll achieve consistent heat coverage across the cooking surface, giving you the edge in championship-level cooking.
QUAD Damper system for even airflow and precision temperature control
Dual bottom dampers strategically located on the sides of the bottom base and underneath the charcoal basket
Dual exhaust dampers on the lid for free flowing heat over your food
Full control of all 4 dampers on top and bottom for complete and even coverage of heat over the entire cooking area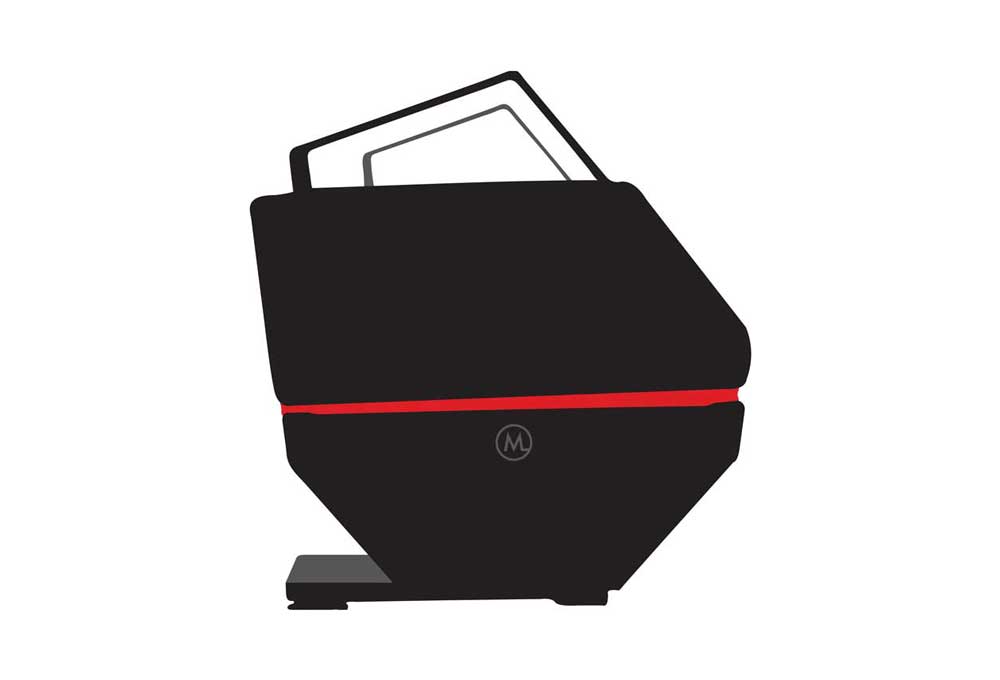 Gasket Sealed to Maintain Perfect Cooking Temperature 
The M80 charcoal grill's gasket sealed lid is precision-made for vital temperature control, allowing the dampers to do all of the work. Even the smallest of gaps can cause unwanted gusts of air into the cooking chamber or heat escaping, which is why a charcoal grill of competition caliber should have the dampers do all of the work.
Precision-made with a gasket sealed lid for vital temperature control
Allows the dampers to do all of the work for precise and consistent cooking
Eliminates unwanted gusts of air into the cooking chamber or heat escaping
Efficient smoking with a minimal amount of charcoal and full control over the dampers for left or right draft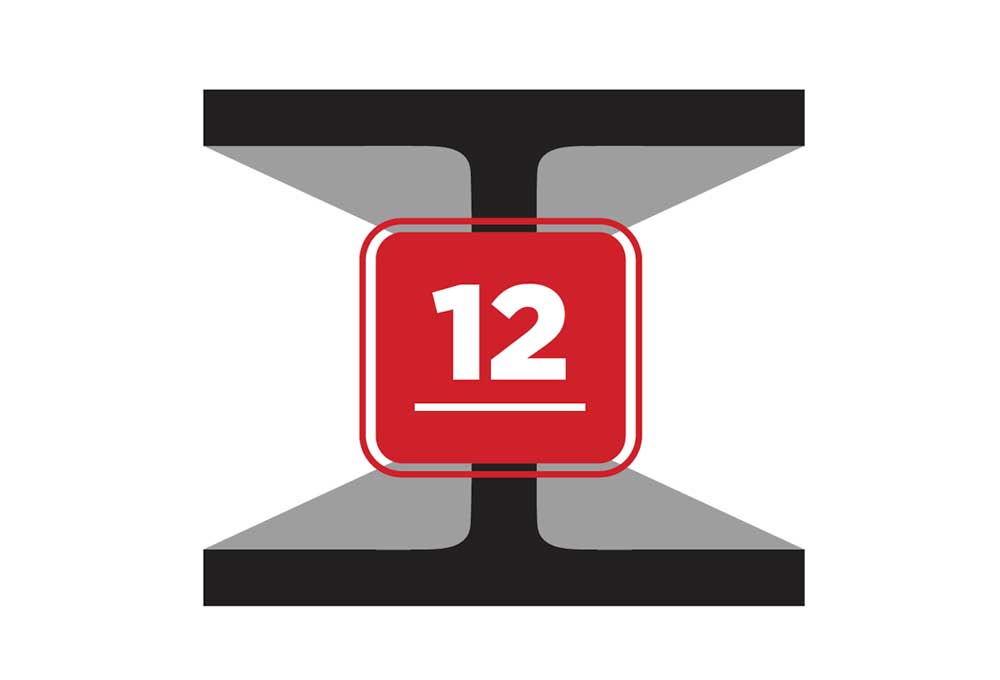 Built to Cook and Last For Years
When you get your hands on an M80, it's obvious we are not playing around when it comes to quality and longevity. The M80 is constructed from handcrafted 12 gauge 316 stainless steel, ensuring durability and superior heat retention. Every component, from fasteners to hinges, is solid 316 stainless steel—no compromises. With an M80, you invest in a grill that's built to last for many years, if not a lifetime.
Built by Americans with American steel
Every component is designed to last for years and years
Not a single piece of cheap plastic or nickel plated parts
Product Dimensions
Lid Total Dimensions:
10.9" width x 17" length x 4.75" height
Bottom Total Dimensions:
10.875" width x 17" length x 7.25" height
Total Cooking Surface:
139 sq.in.
Total Weight of Grill:
44 lbs
Competition Cart Total Dimensions (SOLD SEPARATELY):
24" height x 36" width x 21.5" length
Weight of Cart (SOLD SEPARATELY):
40 lbs
Total Weight With Cart:
84 lbs